If you are looking to take up photography at a professional level, or as a hobby, there are a handful of things you will want to purchase.
When it comes to photography accessories, there are an abundance of options to choose from. Sometimes, it can be difficult to know what is essential, and what isn't. 
To help you along, we have compiled a list of the 10 most important things that you will need for photography.
While there are other useful accessories available, without these 10 items, you will struggle to carry out the basics.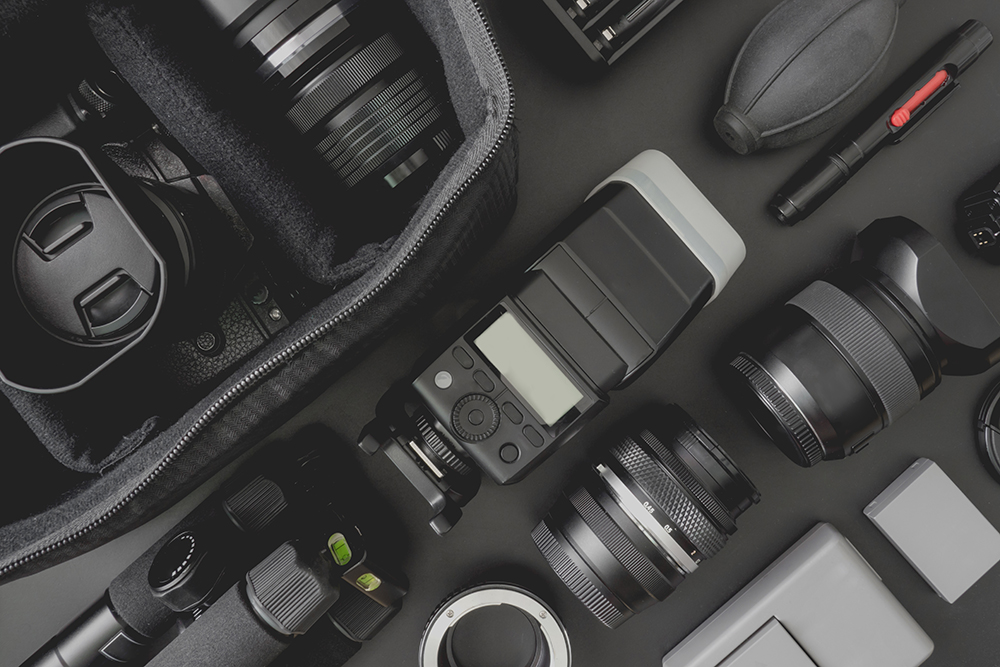 For each of these suggestions, we have also included a link to some great products you will want to consider. 
1. A Good Camera
When it comes to the necessities for photography, you are not going to get very far without a camera.
While a lot of people choose to capture images on their phone, the quality simply does not compare to a professional camera. This is why it is so important to invest in a good photography camera.
There are so many different options to consider, but two brands in particular that are popular in the photography world are Canon and Nikon.
The quality of their cameras are fantastic, and while they can be quite expensive, they are worth the investment. 
Ideally, you will want to purchase a digital SLR, as this will allow you to swap out the lenses, according to what you are photographing. However, you can choose to use a bridge camera if you are a beginner. 
The camera we have included is a great option to consider, and it comes with many of the accessories we have included in this list too, which is particularly useful if you are looking to save money.  
2. Lenses
As we have already discussed, ideally you will want to be able to have the option to switch out your camera lens. This allows you to use your camera for many different photography purposes, such as macro shots, sports events, short distance and long distance. 
Given that different lenses have different purposes, it is useful to have a number of different lenses. The more variety you have, the more skilled you will be as a photographer. 
When choosing lenses, you will need to ensure that they are compatible and suitable for the camera you have. Typically, if you purchase a Nikon camera, you will need to purchase a Nikon lens, for example. 
3. Camera Bag
To transport your camera, we would always recommend using a camera bag. This will help to keep your camera, lenses, and other accessories safe during transportation. 
While some cameras will come with camera bags, the majority won't. As a result, you will need to purchase your own. You will want to ensure that the camera bag is a suitable size.
If it is waterproof, and anti-shock, this is a great addition too. 
4. SD Cards
The vast majority, if not all, cameras need an external memory source to save the photos you have taken.
This is why purchasing an SD card is so important. Without an SD card, you will not be able to store and use your photos. 
SD cards are something you will want to purchase multiple of so that you never run out of room.
They come in various memory sizes, and prices, depending on the option you need. It is also useful to purchase a wallet or case to keep them safe. 
5. External Flash
Your camera will come with a flash, which is useful. But, in certain scenarios, the flash provided may not be strong enough. In these instances, it is useful to purchase an external flash.
These work well for studio and low light situations. 
While this is not a purchase you will necessarily need to make straight away, depending on the type of photography you are carrying out, it is a useful addition to have. On the whole, they do not tend to be too expensive to purchase, and are quite affordable. 
6. Tripod
Not all photographers will choose to use a tripod, but in our opinion, they are a necessary accessory to have.
A tripod is useful for so many situations, and it will help to keep your camera steady, in order for you to have the perfect shot. Without a tripod, photos can potentially be slightly blurred with your hand movements. 
Tripods are useful for the vast majority of photography purposes, and they are easy to carry and store when they are not in use, too. They do not have to be expensive to purchase, and even the basic options are great to consider. 
7. Camera Strap
A camera strap is an item you may not have thought to consider, however, it is so useful.
While some cameras will come with a strap, others won't. The straps are useful as it allows you to wear the camera around your neck when it is not in use. 
It prevents you from having to set the camera down, and they are sturdy and inexpensive to purchase.
It keeps the camera safe and secure around your neck while it is not in use, and it stops you from having to constantly put the camera away in its bag. 
8. Reflector Kit
Reflector kits are particularly useful to use if you are taking photographs of people or objects in a studio.
They allow you to manipulate the light by reflecting it in a way that is the best for the shot.
They can be purchased in gold and silver, and they can collapse down to be easily carried. Furthermore, they are a must for still shots or portraits. 
9. Camera Lens Filters
Camera lens filters are such a useful item to own when you are a photographer. They are not something you have to purchase, however, they will vastly improve the quality and lighting of your images. 
The filters help to remove any unwanted light from the shots, and allow the color temperatures to be better. You will not have to worry about over exposure, and there are many different filter options to choose from. They will help with water, glare and reflections.
10. Camera Cleaning Kit
To maintain your camera and keep it in the best possible condition, you will want to purchase a cleaning kit. This will help you to keep the lens and other parts of the camera clean and clear to use.
The last thing you want is for your camera lens to have smudge marks all over it. 
Summary
We hope you have found this article useful. As you can see, these 10 items are so important when it comes to photography. Not only will they help to improve your photography skills, but they are also necessary.