We are currently living in the age of technology.
Many of us depend on electronic devices and internet connections to complete tasks on a daily basis, whether it is for work or pleasure. Even in our careers and education, we use apps to help us learn, teach, and present to others.
Following the disruption caused to the world due to the ongoing Covid-19 pandemic, several people are still working from home. Many firms utilize video conferencing software to communicate with one another, allowing employees to connect with one another via online video chats.
Zoom is, arguably, the most widely utilized of all of these apps.
If you are a person working from home, or a student studying from their bedrooms, you will be familiar with Zoom's set up: you, along with countless other people, sit there and stare at your own face for hours on end (while you should be listening to your lecturer or employer).
Sometimes, you just want to bring a little fun along to the video call to brighten everybody's day. Or, perhaps you just want to change the lighting in your room to make yourself appear a little more attractive.
Although the majority of Zoom's features are intended to be practical, the company's most recent addition focuses on making video meetings more enjoyable. A Video Filters tool is one of Zoom's newest features, and it can help you take your video chatting skills to the next dimension.
So, how do you use these filters? We have gathered all the information that you will need to use these filters for yourself in your next Zoom meeting.
Here are the quick, easy steps you will need to take to find fun filters on Zoom.
Where To Find Zoom Filters (And How To Use Them)
In order to use filters on Zoom, you will need to have the latest version of the app downloaded. The app should update automatically when the latest update becomes available.
You can manually update the program yourself by opening Zoom, clicking on your profile image in the upper right side of the Zoom screen, and simply clicking the 'Check for Updates' option from the menu that appears.
If a new update is available, you will receive a notification telling you so. Select the 'Update' button at the bottom, then click the 'Install' option once the update has downloaded.
Once the update has been completed, open the app and sign in with your credentials.
Before Joining A Zoom Call
Click on the 'Settings' tab after selecting your profile picture, and the 'Background & Filters' tab on the left sidebar will become available. Next, select the 'Video Filters' option, and you will find several filters and backgrounds to use!
While Being On A Zoom Call
If you're in the middle of a meeting, you'll have to take extra steps to get access to the filters.
Click the 'Up Arrow' next to the 'Stop video' button in the bottom bar while you're in a meeting. A popup menu will open up, and you will need to select the 'Choose Video Filter' option. Simply choose one of the various filters on the screen, and apply it to your meetings!
Removing Filters While Being On A Zoom Call
If you would like to remove the filter while being on a Zoom call, simply click the Up Arrow next to the 'Stop Video' option again. Click on 'Choose Video Filter', and you will see a button that says 'None'. Click that button, and the filter will disappear.
What Filters Are Readily Available On Zoom?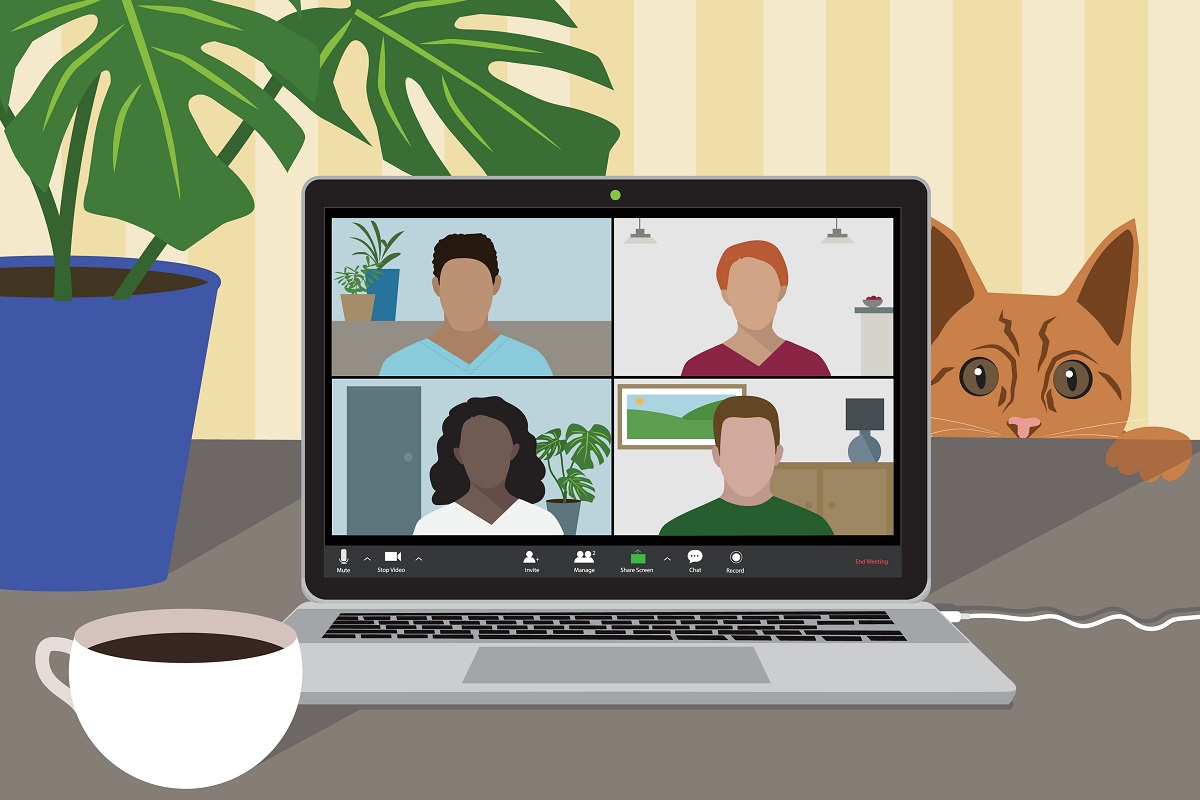 Admittedly, Zoom does not have the most impressive filters when compared to other popular applications, such as Snapchat and TikTok.
There are seven filters that apply layers to your screen, changing the saturation and color of the overall image. The names of these filters are:
Boost (slightly darkens the screen, adding contrast and enhancing saturation)
Noir (the black-and-white filter)
Cinnamon (adds a reddish/pinkish tint to the screen)
Cream (adds a cream-colored tint to the screen)
Seafoam (adds a blueish tint to the screen)
Sepia (the sepia filter)
Gum (boosts the color of the screen, adding a warm undertone)
There are also a handful of frames and stickers that can be used as filters.
Two of the funnier ones include a sunglasses sticker that positions itself over your eyes (Mosaic Eyewear), and a sticker of a slice of pizza that sits on top of your head like a hat (Pizza Party Hat).
What Devices Run Zoom Filters?
Zoom's filters and backgrounds are provided as a pre-installed function for Windows and Mac desktop users.
You will need the Zoom desktop client version 5.2.0, or Windows 10 or macOS 10.13 or higher, to use the features.
The filters are also available on iPhones, iPad, and Androids, providing the app has been recently updated.
Why Aren't Filters Available On My Device?
If filters aren't working on your device, the most likely reason is due to you not having access to the most recent version.
Try checking for newer versions by clicking on 'Check for Updates', and if there is an update available, select the 'Update' option. Once the newest version has been downloaded, the filters and backgrounds should become available to you.
If they still aren't appearing on your screen, try contacting the Zoom support team. You can contact through their Twitter account or their official Zoom Support site.
How To Use Snapchat Filters On Zoom
As we previously mentioned, Zoom does not contain the most diverse set of filters compared to other apps. If you would like to access more fun filters, you could always connect your Snapchat account to use their filters instead.
In order to use Snapchat filters on Zoom, first download and install the Snap Camera, making sure your device executes the following required functionality:
Minimum of Intel Core i3 2.5Ghz or AMD FX 4300 2.6Ghz with 4 GB RAM
Intel HD Graphics 4000 / Nvidia GeForce 710 / AMD Radeon HD 6450
Screen resolution of 1280 × 768 or higher
Windows 10 (64 bit) or newer or
macOS 10.13 or newer
The Snapchat app must be downloaded onto the same device that you will be using to utilize Zoom in order to use the filters.
Firstly, open the Snapchat app on your chosen device.
When the camera is on, decide which filter you would like to use by clicking on the smiley face button on the bottom left of the screen.
Snapchat will display a number of readily chosen filters – ones that are trending, and some that you may have favorited – but, if you would like to choose something different, scroll left until you find the magnifying glass icon. Click 'Explore' and search for your favorite filter.
Once you have picked which filter you would like to use, click on the 'Heart' icon to add it to your favorites list.
Exit Snapchat, open the Zoom app, and start a meeting. Perform the same actions that you would while finding a filter while being on a Zoom call: locate the 'Stop Video' icon, and click the Up Arrow next to it.
When this menu opens, you should see an option that reads 'Snap Camera'. Click on the button, and then click the 'Heart' or 'Star' icon located in the upper left corner of your screen. You should then be able to select any filter from your Snapchat favorites list.
Final Thoughts
So, that is how you can find fun filters and use them while taking part in a Zoom meeting. Use these newly found skills to make your next video call more entertaining!
Have fun!