Are you torn between ring lights and LED panels and aren't sure which one is better? Maybe you have been recommended a ring light but want to know what your options are?
Or perhaps you are curious and want to know more? Whatever your reason might be, we have the answer for you!
When it comes to selecting your lighting for photography, there are lots of options out there. Two popular choices are ring lights and LED panels. Both have excellent uses and can work to light your photographs beautifully. 
But which is better? And what one should you be using? These questions race through your mind, as you try and find the answers. But no matter what you do, you can't find the answer and your photographs remain poorly lit. 
Well, no more! Today, we are here to give you the answers you need! Keep reading to find out all you need to know about ring lights and LED panels to make your decision today! 
The Differences Between LED Panels And Ring Lights
Before we dive in and see which is the better light, let's first take a look at the differences between these two lights. 
Ring lights are lighting devices with a circular shape. They are usually attached to the camera lens and illuminate the scene from behind the subject. The shape of the ring light determines its function. 
Some models are designed to create a soft glow around the subject, while others are meant to give off a harsh glare. They are used as LED lighting technology to improve photographs and videos. They are often used as vlogging or selfie lighting devices. 
Ring lights can be used as a way to take photos in low-light conditions. They are also great for video calls because of the large hollow space inside. A ring format allows for even lighting on the object of focus (the center).
An LED panel is a group of LEDs arranged in the shape of a panel. A square or rectangle LED panel is used for lighting purposes. Multiple units of an LED panel give off illumination. 
They give off lots of light and are often used for large billboard advertisements, store signs, gaming advertisements, and animations.
What Do You Need A Ring Light Or LED Panel For?
When taking photos, you should always use off-camera lighting to improve the quality of your images. Off-camera lights are more powerful than on-camera lights, and they allow you to control exactly what light falls on your subject.
They also help you achieve better results in low-light environments because they do not require any additional lighting sources to work. Off-camera lights come in different types, including softboxes, beauty dishes, reflectors, and umbrellas. 
Each type offers unique benefits, and you can choose the right one depending on your needs. Both types of lights are used by many different artists. However, there is no clear winner.
Ring Light Advantages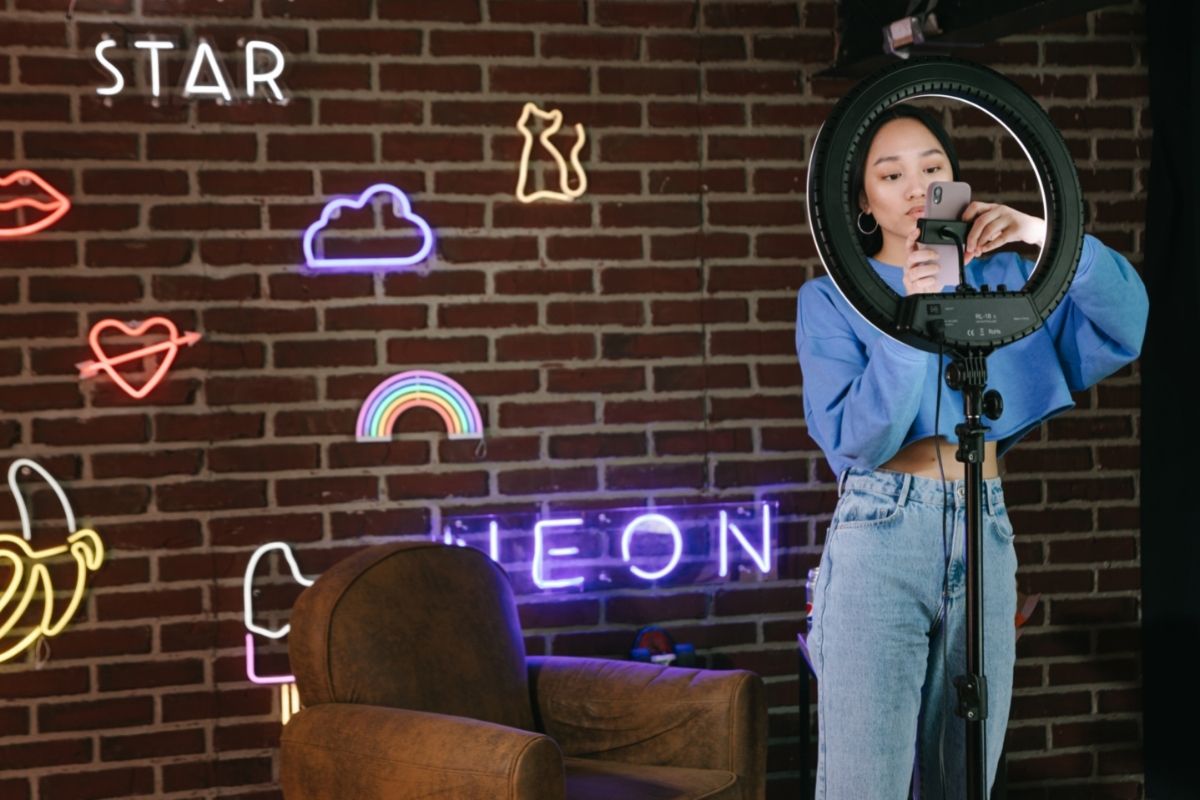 Ring lights have some features that make them great for different situations. 
Ring Lights Are Used To Enhance Objects
They do this by balancing light. Using a ring light helps create better quality images.
They Help Reduce Noise In Photos And Videos 
Video bloggers use them to speak directly into the camera. 
They Produce A Soft Light That Doesn't Make Faces Appear Too Bright 
Overly-bright lights can be distracting when taking photos. 
Ring Lights Are Great For Setting Up Your Camera While You're Shooting Videos Or Photos
They allow you to place your camera between the rings, making it easy to use when you're trying to capture footage. There are many different types of ring lights available, but Neewer makes some of the best ones.
Ring Light Disadvantages
Some of the features of the Ring Light make it less than ideal for most users. The downsides include:
Low Intensity Can Be A Disadvantage For Some Shots
Some photographs need a higher intensity which can be provided by an LED panel. 
Ring Lights Aren't The Best Choice For Outdoor Photographs And Videos
Meaning they can only really be used effectively in indoor settings.
Ring Lights Should Only Be Used In Portraits
They are not effective at taking landscape photos.
LED Panel Advantages
The LED panel advantages are as follows:
LED Panels Are Used To Produce Strong And Focused lights
These are fantastic for creating high-quality photographs!
They Offer Flexibility In Adjusting The Brightness And Intensity Of The Lights
So you can change the brightness depending on the shot. 
They Also Have A Larger Range Of Focus Than Traditional Ring Lights
You can take a wider range of professional-looking shots. 
LED Panels Produce Strong Lighting Into A Wider Space
This makes them great for capturing large areas such as a room and landscapes
What Do You Need AN LED Panel For?
LED panels are commonly used in retail stores, offices, restaurants, and homes. They provide bright illumination without consuming much power. If you want to install an LED panel at home, you should consider the size, shape, and placement before buying one.
Panel lights are used in many different places. Residential uses include panels for kitchens and bathrooms. There is a wide range of sizes available, so you can buy what fits your needs best. 
LED Panel Disadvantages
The LED panel has some significant downsides including:
Shadows And Dark Areas
You can sometimes get shadows and dark areas on your images because the light is beamed right at the object being photographed.
Tricky To Use 
LED panels aren't as easy to set up as the ring light, so you might find yourself spending longer setting up an image than normal. This can be a big issue, especially if you travel a lot to take your photographs. 
How To Choose Between An LED Panel And Ring Light
So how do you choose between the two? Well, you will first want to consider the types of photographs that you are taking or want to take. Traditionally, ring lights are used for portraits whereas LED panels are used for landscapes. You can use this distinction to choose the right light for you. 
 Both types of lighting are useful for different purposes. Carefully consider the type of photographs that you want to create, and the advantages and disadvantages of each that we looked at earlier to choose the right light for you.
Final Thoughts
Ring lights and led panels are both great choices for lighting in different ways. It depends on which type of photos you plan on taking, what sort of light intensity you require for your shots, whether you're taking indoor or outdoor, and portrait or landscape shots.
If you want more control over how much light comes out of the fixture, then an LED panel may be better for you. If you're looking for something less intense for selfies, videos, or vlogs, pick up a ring light.