When it comes to taking a headshot, there is an element of unspoken etiquette that is linked to them.
Headshots are typically taken for professional purposes, and as a result, you will want the photo of yourself to have a professional aura surrounding it. 
There are many different types of jobs that require a headshot, and some are more serious than others.
As a result, while some smiling headshots would be acceptable, others wouldn't. This is why it is important to do research into the role before sending the employers a headshot, to ensure that it is correct. 
In the vast majority of cases, smiling in a headshot is acceptable. However, there are a few things you will want to take into consideration. After all, a headshot is a professional photo of yourself, in comparison to a photo you would display on social media. 
In this article, we will be talking you through everything you need to know about headshots. We will be discussing smiling, etiquette, and some useful tips that can help you to take the perfect headshot. 
What Are Headshots?
As its name suggests, a headshot is a photo of a person's face. The photograph is taken close to the face, and it is usually taken from the shoulders up.
It typically only features the person in the photograph, and it is free from any background noise. The photo is a professional one, and it is typically taken by a photographer. 
What Are Headshots Used For? 
There are many reasons why a person would want to have a headshot of themselves. Typically, headshots were used by actors and actresses.
The headshots were taken and sent to potential roles they wanted to audition for. If the director of the production was interested in casting the actor, they would then be called for an audition. 
Headshots are so useful for actors and actresses, because it gives potential employers a clear idea of what the person looks like.
They can see whether or not a person would be suitable for the role, and it also allows actors and actresses to show their interest in a role. 
Over the years, more and more people are now choosing to have headshots taken, and it is no longer something that just actors and actresses have.
For some roles, a co9mpany will want you to have a professional headshot taken. This photograph will then be used for work purposes, such as for company profiles, emails, and on the company's systems.
They are a great way for clients to see the person they are interacting with, and it also allows employers to be an employee too. 
In addition to this, people who are freelance, or run their own businesses will often have a headshot.
This helps to enable those interested in their business to see the face behind it. They are also useful for sites such as LinkedIn, too. They look far better than a selfie, and will allow employers to see you in a professional light. 
Should You Smile In A Headshot?
In the vast majority of cases, yes, it is recommended that you smile in a headshot. 
While you will need to assess whether or not it is appropriate for the role, typically this is fine. In fact, smiling is often encouraged.
This is because smiling allows the person who is looking at the headshot to see some of your personality.
It allows you to seem more professional, and it also helps a person to be more engaged with you. If you are not smiling in your photograph, in some cases, this can potentially come across as cold and uninviting. 
While you do not have to have a big cheesy grin in the headshot, a small smile, or even a hint of a smile is welcomed. If you have a role such as an attorney, given the job description, a headshot where you are smiling heavily is not really recommended.
However, for other roles such as acting, or general office jobs, smiling is a good idea.
When you are taking the headshot, your photographer will be able to direct you to ensure that you are smiling appropriately, and they will also help to position you correctly.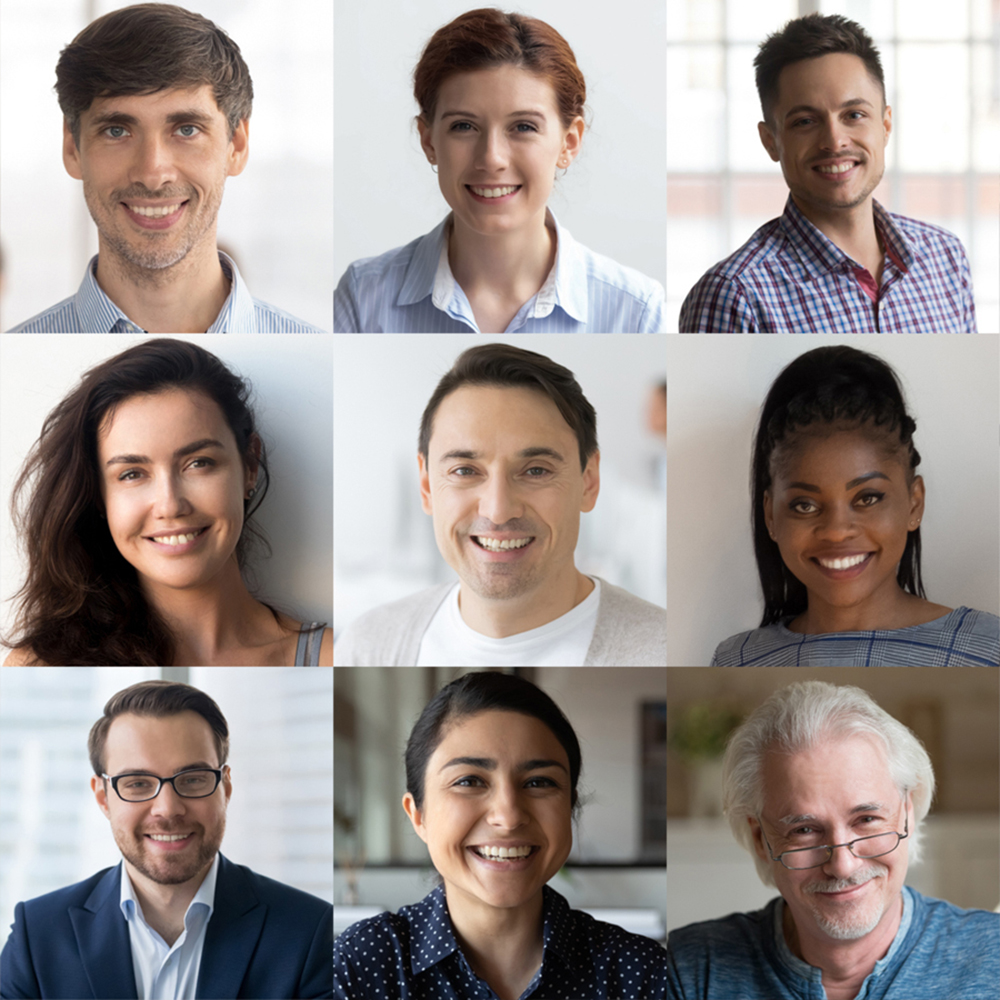 After all, while a headshot is a professional photograph, it is not a mugshot, and it is something that you should not feel daunted by.
You will want to display as much of your personality as possible, and using your eyes to smile and communicate is important too. 
We would recommend that you practice the type of smile you intend to use, prior to the photoshoot.
This will help you to get a better idea of the type of smile you want to do. It will also help you to determine what the right amount of smile is. 
It is important that you are happy and comfortable with your headshot, as this is what you will be using to represent yourself in a professional setting for some time.
As a result of this, you will want to do what is comfortable for you. If you only want to smile a small amount, then this is okay. Likewise, if you want to have a bigger smile, and this represents you as a person, then this is acceptable too. 
Tips For Taking A Great Headshot
In addition to smiling, there are a few other aspects you will want to take into consideration to help you get that perfect shot.

On the day, it is important to be aware of your surroundings and how you position your body. While some people will look straight into the camera, it is often better to angle your body slightly and tilt your head. 
Your posture is also important, you will want to stand or sit up straight, with your shoulders back.
If you are slouching slightly, then this will be apparent in the headshot. Standing up straight emphasizes that you are confident. 
Summary
We hope that you have found this article helpful. As you can see, it is perfectly acceptable to smile in a headshot. While a headshot needs to look and feel professional, there is no harm in smiling.

In fact, if you are smiling in the headshot, this helps you to convey some of your personality through it.
It allows the person considering you for a role, or people within a company, to see that you are a friendly and approachable person. 
The most important thing to remember when it comes to headshots is that they should look professional, and it is always best to have one taken professionally.
A photographer will then be able to talk you through the necessary steps you should take to ensure that the headshot looks okay.
Ultimately, whether or not you smile is down to the role you are carrying out. For example, lawyers or attorneys typically wouldn't smile heavily in a photograph, whereas someone who is an actor or entertainer might. 
It is up to you to decide how much, or how little you smile, as this can affect how you are portrayed within a role. But even a small hint of a smile is acceptable in the vast majority of roles.