Photo backdrops come in various shapes and sizes. They range from simple fabric sheets to elaborate wooden structures. The choice of backdrop depends on the type of photography you want to do.
How do you choose the perfect backdrop for your photos? What should you look out for before buying a photo backdrop? These questions race through our minds as we struggle to find the right answer.
But no more! We have put together this helpful guide to make it easier for you to find your ideal backdrop. Keep reading to find out more.
Why Use A Fabric Backdrop?
There are different materials that you can use for backdrops, but fabric is one of the most popular backdrop materials with many photographers. It has lots of benefits that make it easy and convenient to use.
One of the best things about using a fabric backdrop is that it will reflect the light rather than absorb it. This means that there will be no glare on the backdrop, unlike with other materials like vinyl. As it absorbs the light, this means that the backdrop will often appear dark, even if a lighter fabric is used.
Fabric backdrops are lightweight and easy to move around. This makes them versatile to use during a photoshoot. You can move the fabric around to different positions and locations around the studio, reposition it easily, and drape it over different structures.
You don't need to roll the fabric to store it, you can just fold it up. Whilst this might create some creases, they will be very easy to get rid of. You can put the fabric in the dryer on a low setting, hang the fabric in a steamy room, or pull the fabric tight and clamp it.
You can also iron it to get rid of any creases and make sure your backdrop looks smooth and professional.
Fabric makes a very versatile backdrop. You can choose from different patterns or plain colors to suit whatever you need. It is relatively inexpensive to create a collection of a few different fabrics, which will give you lots of options when it comes to your photoshoots.
You can use fabric as a backdrop for headshots, portraits, engagement shoots, family shoots, product photography, and more.
The only downside to fabric is that some of the thicker, heavier fabrics are too heavy to be taped to the wall. This means that those particular fabrics will need to be hung from a backdrop stand.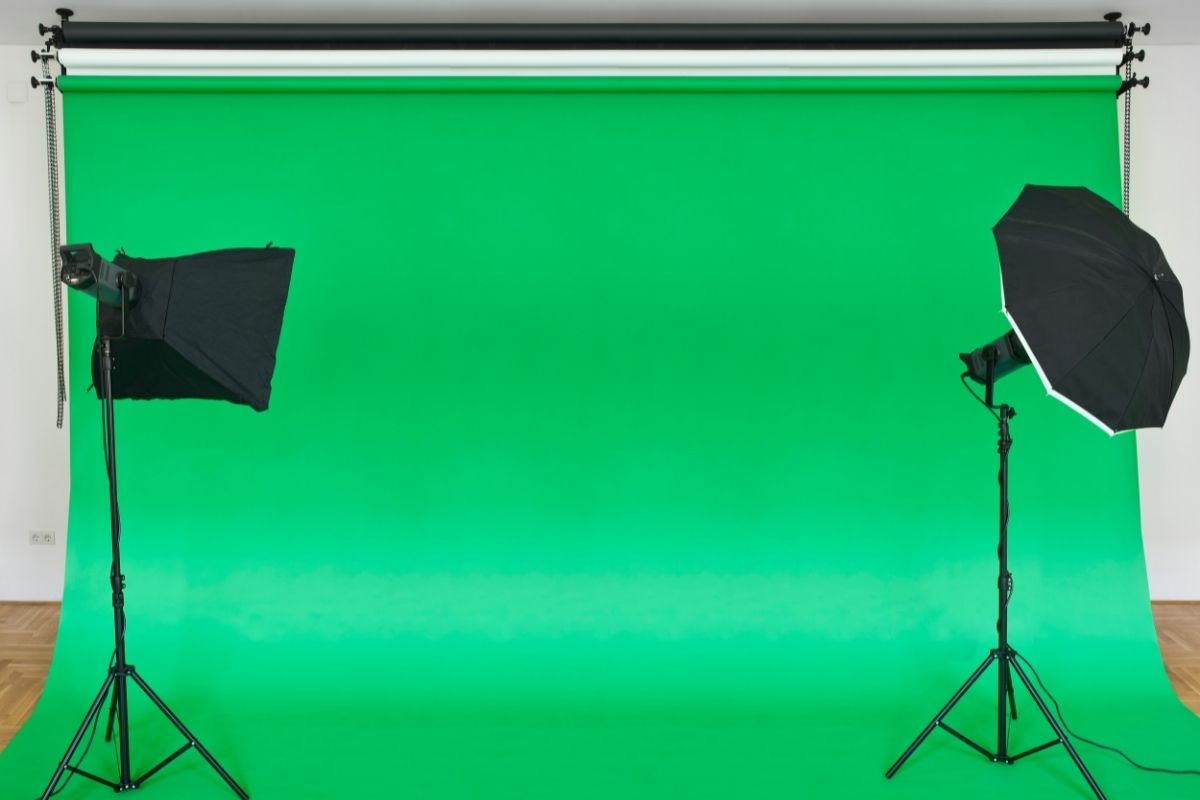 Types Of Fabric Backdrop
If you want to use a fabric backdrop, there are several options when it comes to the different types of fabric to choose from.
Muslin is a very popular choice with beginner photographers. It is very versatile as it comes in different colors and patterns and is easy to use. It is lightweight, so it's easy to move around and store, yet it is durable.
You can position it easily, and when you are finished you can fold it up and it won't take up much space. This is a great low-cost option for photographers who are just starting.
Canvas is another great option for studio photographers. It is light enough that you can tape it to the wall so you won't need to use a backdrop stand. You can also use canvas as a floor backdrop which makes it very versatile.
However, it cannot be wiped clean so it is best not to use it for cake smash photoshoots. Ideally, you should roll the canvas to store it to make sure it doesn't get too creased, but it is fairly simple to get rid of the creases.
Some other types of fabric backdrops include cotton, polyester, stretch knit, and velour. Each one is slightly different and can be used for different things.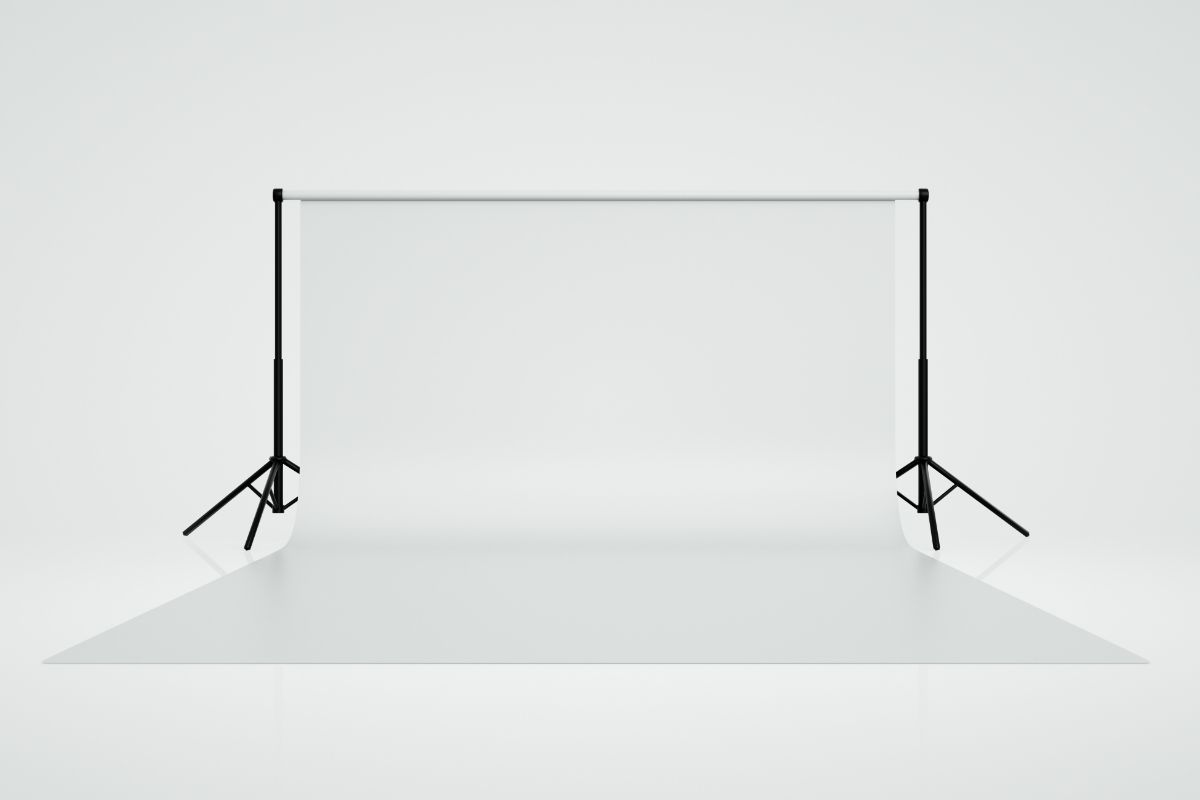 Fabric For Outdoor Photography
Setting up a fabric backdrop in an outdoor space can be a really good technique. It allows you to make the most of the natural lighting, whilst being able to maintain control over the background of your photographs.
You can use any kind of fabric for this, but make sure it has no creases in it. You will be better off using a heavy fabric to stop it from blowing in the wind, or you will need to attach it to a stand at all four corners.
You could also hang the fabric from things you find outside- a wall, a tree, rocks – as long as the corners are fastened so they don't blow in the wind.
What To Look Out For In Fabric Backdrops?
If you want to use a fabric backdrop then there are a few things that you should look out for.
Ideally, you want a seamless fabric backdrop. This means that your photographs won't be interrupted by any lines that you need to blur or edit out.
You should also try and choose a durable fabric. It will get a lot of use and you will need to move it around the studio and reposition it. You don't want it to fray or tear, or you will have to replace it which will cost time and money.
Storage is another important factor to consider. It is much easier for you if you can fold up the fabric rather than having to roll it. You also want to try and use something easy to get the creases out of so your photographs look professional with a smooth backdrop.
Finally, it will benefit you if you can use the backdrop for lots of different photoshoots. A neutral color would work well for this, but you could also put together a collection of a few different fabrics – one light, one dark, and a patterned one so you have several options.
Summary
Now that you know more about fabric backdrops, you will understand why they are so useful. They are great for studio photographers but can also be used outdoors. They are versatile and affordable and make your photographs look very professional. Remember to try and get hold of a seamless, durable fabric that is easy to store.