When it comes to studio photography, it is important to have a good understanding of lighting and how it affects the photographs you take. Top lights are a useful option to use and consider, as they offer more control, definition, and creativity. 
There are many ways in which top lighting can be used in photography, and you may be shocked to learn how versatile this type of lighting can be. 
In this article, we will be discussing top lighting in more detail, from its purpose in photography, to how you can use it, and its benefits.  We will also be covering what studio photography is. 
What Is Studio Photography? 
Studio photography is a definition used to describe many different types of photography. As its name suggests, the photography takes place within a studio, which can be a range of different sizes. 
The studio is an indoor venue that can be decorated in any way that the photographer sees fit.
The great thing about studios is that they are a complete blank canvas, and they allow a photographer to be creative with the images they are shooting.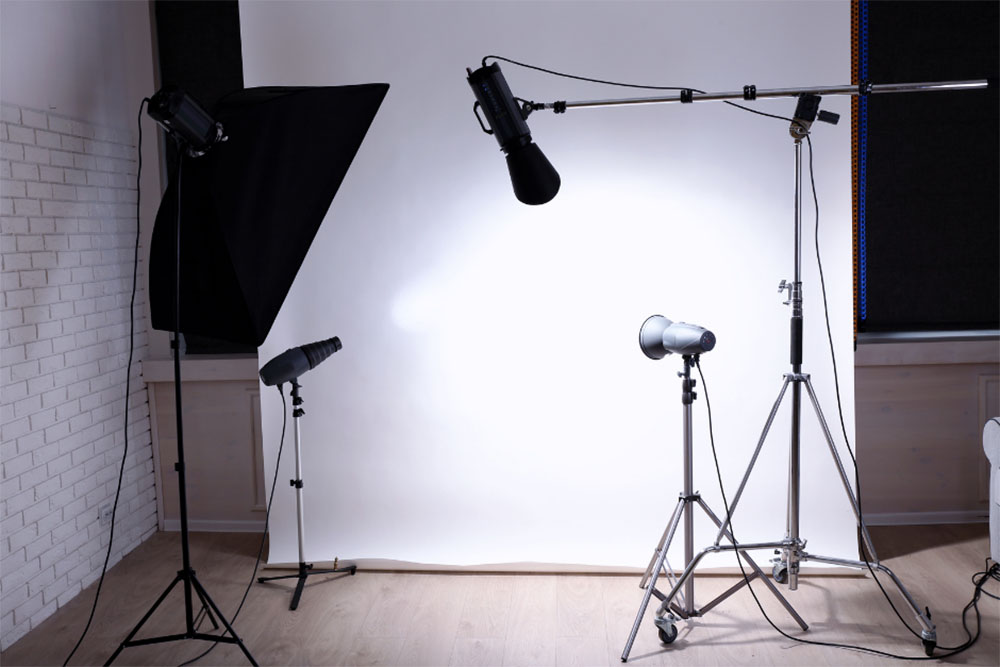 In some instances, studios are used with a plain background to shoot beauty or portrait shots. In other instances, props, backgrounds, and larger photoshoots can take place. 
Studio photography is fantastic for someone that is looking to have complete control over the types of photographs they use as the background can be changed accordingly, unlike when the photos are taken on a location. 
What Is A Top Light?
In a studio there will be a lack of natural light, and in many instances, a studio will only have access to natural light. This is to help ensure that the correct environment for the photographs can be taken. If the room was full of natural light, this would have an impact on the shots taken. 
When it comes to the lighting used in a studio, there are many different options to consider, from soft boxes, to key lights — they all serve a useful purpose. Another useful type of studio lighting are top lights.
These are fantastic options to consider for a number of different reasons. 
If you are unsure of what top lights are, they are lights placed overhead in the studio, they are placed higher than any other lights used, and they are great if you are looking to create atmosphere in your photos. 
Top lights can be placed above the set, or the overhead lights within a studio can be used to create a similar effect.
Top lights are not always the most popular lighting choice because the light cannot be manipulated in the same way that other lighting can. However, for a more dramatic effect, they are the best option to consider.
How Is A Top Light Used In Studio Photography? 
There are many different ways in which top lighting can be used in studio photography. How you choose to use and utilize it will depend on the type of shots you are creating. 
In general, if you are looking to create a moody, and atmospheric photoshoot, top lighting should be utilized. It can be used to create a dark, and even spooky atmosphere when used correctly.
We would recommend using top lights as the only source of lighting within a photo to help create a more dramatic effect. 
They are a great option to consider if you are trying to create lighting in a studio that is similar to moonlight, or streetlights. As they are not too overpowering, the brightness creates great shadowing, and helps to illuminate specific areas of the studio and set. 
While top lights can be used with other lighting techniques, it is best used when it is the only source of lighting. This will allow it to become more effective.
Top lights are a great option to consider if you are shooting in black and white, and want the images that the light is focused on to be more poignant.
You can also choose to use multiple top lights, especially if they are placed in different areas within the photograph. This can help to increase the depth within the photo and almost add layers to it. For example, if you are creating an aisle of a shop, or an alleyway. 
There is also an element of texture that is created when you use top lighting. For example, top lighting doesn't need to be used just for atmospheric purposes. You can choose to use it when you are shooting product photos.

If you are using top lighting for this purpose, you will want the lighting to be placed directly above the product. You won't want it to be placed too far away, but just enough that it adds depth to the product, and allows the viewer of the photograph to see the textures and depth. 
When top lighting is used in this way, it helps to create a more professional feel to a photograph, especially if you use a white backdrop and foreground. It will help to enhance the color of the products. 
Top lighting is often used for this purpose in commercials, online advertisements, and product photos on websites. It is a great way of drawing attention to the product, and allowing it to stand out more clearly.
By using the white backdrop, the main focus will always be on the product. 
Top lights are great for items with a reflective surface as it causes less light reflection when you are taking the photo. If you are shooting with a light at a lower angle, the reflection can cause issues with the shot.
When you are using the top lighting, it is important to take into consideration the shadows that it creates. The closer the lighting is to the product, the less shadow is created.
The further away the top light is, the less it is going to illuminate the shot. As a result of this, more shadows will appear, and the photo will be more contrasted. 
This is why it is important to experiment with top lighting. This will help to ensure that it is being used in the best possible way for the type of photo you are looking to shoot, and the atmosphere you are intending to create. 
Summary 
We hope you have found this article useful. As you can see, top lights are a useful and often important role within studio photography. The great thing about top lighting is that it is versatile, and helps to create a number of different atmospheres.

From moody photographs, to professional product photos, top lights are the best option to use.
We would certainly recommend considering purchasing top lighting if you are looking to shoot within a studio. As there is typically no natural lighting in a studio setting, you will need to rely on studio lights to illuminate your photographs. 
We would recommend researching and testing out different heights of the top lighting to help you gain a better understanding of what is the best option for your photo.
To create more shadowing and a moody atmosphere, place the top lighting at a high level. For professional product photographs, place the lighting closer to the product or subject.