So, you're sick and tired of scrambling at the last moment to find a suitable place for having a conference call.
We totally get it!
Working from home has a serious downside: your colleagues and bosses can drop by your house whenever they like…
And you don't want to be known for having a huge mess behind you! 😳
So save yourself the embarrassment:
Get a green screen, and always look 100% professional!
They'll save your behind even in the worst moments, like when your kids have a terrible food fight right before your big meeting with the CEO.
But which green screen should you order?
Find out here!
In This Article
One of these six:
Now let's get reviewing so we can help you decide on exactly the right one!
The Best Green Screens for Zoom (and Other Video Conferencing Platforms Too)
Best Green Screen for Zoom: Elgato Green Screen Panel (Collapsible)
Elgato Green Screen Panel (Collapsible)
This Elgato Green Screen is the cream of the crop for three simple reasons: incredible build quality, a flip-open aluminum case, and an auto-locking pneumatic x-frame.
Are you looking for a rocksteady, retractable backdrop for your home office?
Then look no further!
This Elgato Collapsible Panel is hands down the best Zoom green screen. Why? It's:
The perfect size.
Optimized for webcam chroma keying.
Effortless to set up and pack up again.
Adjustable in height up to 71" (180 cm).
Manufactured by Elgato, a brand you can trust.
There's only one drawback:
It's a bit expensive.
But if your budget can stretch this far, do yourself (and your team) a favor and order an Elgato panel now — you won't regret it!
Key Features of the Elgato Green Screen:
Has a built-in auto-locking mechanism for rapid deployment
Premium Dacron® by DuPont fabric guarantees it's durable and wrinkle-free
Easy to store and transport because it's just 4" (10.5 cm) high and 4.5" (11.5 cm) deep when collapsed
Runner up Best Green Screen for Zoom: Emart Green Screen (Collapsible)
Emart Green Screen (Collapsible)
If your boss, or your team, has the habit of calling you out of the blue, you'll need a background that takes 3 seconds to set up. Enter the Emart Green Screen!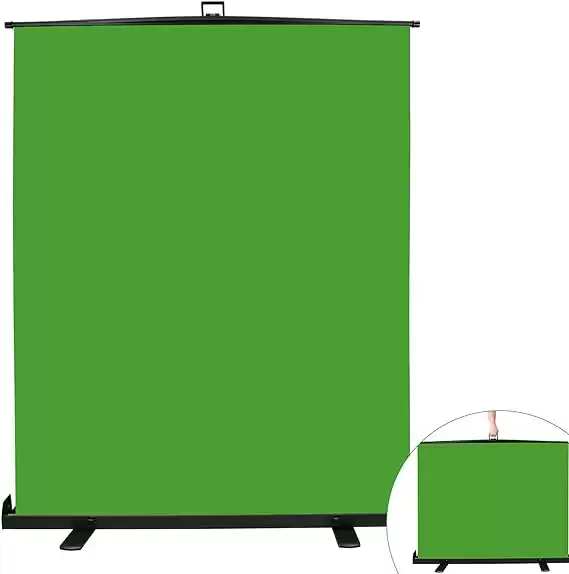 Despite narrowly losing the battle for first place to Elgato, this Emart Green Screen (Collapsible) is still an outstanding choice for your Zoom conferencing needs.
And just to be super clear:
When we say Zoom in this article, we mean all the major video conferencing platforms like Skype, Microsoft Teams, Cisco Webex, Google Meets!
Now back to the Emart… our runner up best green screen for Zoom has everything you need:
A stable base
Superb chroma key compatibility
A wrinkle-free screen that collapses into an aluminum shell
A pneumatic x-frame that makes it amazingly quick to set up
So why is it in second place?
It's not made from the same premium materials you get with the Elgato, and in the long run, you'll notice the difference!
Key Features of the Emart Green Screen:
Lightweight, compact design for ultimate portability
Incredibly easy to use — you'll be ready in seconds
Well-suited to a variety of other purposes like: recording Twitch streams and interviews, making YouTube or music videos, and taking photos
Best Budget Green Screen for Video Conferencing: Fotodiox 5' x 7' Collapsible Chromakey Background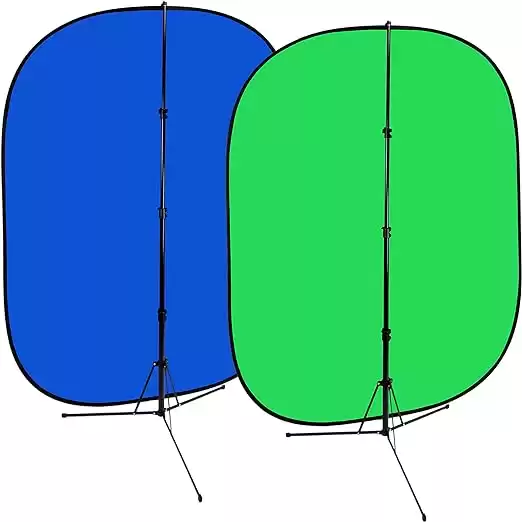 Squeezing onto the podium's lowest step, the Fotodiox Collapsible Chromakey Background is an excellent value-for-money green screen.
But wait, this product isn't just a green screen…
It's also a blue screen thanks to its reversible 2-in-1 design!
This makes it ideal for anyone who takes Zoom calls in various lighting situations or simply enjoys wearing green clothes that would otherwise get mixed up with the backdrop…
Well, green shirts — we all know you're not wearing pants! 😜
One more thing:
The Fotodiox is easy to set up, solidly constructed from quality materials, and the perfect size for video conferencing. When you combine these features with its double-sided design, it's clear why this is the best budget green screen for Zoom!
Key Features of the Fotodiox Green Screen:
Handy carrying case included
24-month manufacturer warranty
Folds down to a compact 30" x 30" (76 x 76 cm) disc
Comes with an adjustable stand (6' to 8' / 183 to 244 cm)
Sturdy steel spring frame helps to avoid wrinkles and creases
Best Cheap Green Screen for Zoom: Fancierstudio 6' x 9' Green Screen
Fancierstudio 6' x 9' Green Screen
Fancierstudio has come up with the ideal solution for budget-conscious home office workers — this ridiculously well-priced and versatile green screen.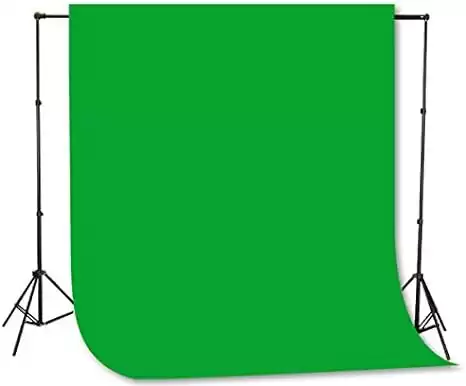 Worried that you'll need to spend a small fortune on a green screen?
Don't!
Check out the best cheap Zoom green screen on the market, the Fancierstudio Green Screen. It doesn't have the same bells and whistles as premium green screens, but it'll get the job done well thanks to a quality muslin background and a sturdy stand.
Your colleagues won't notice the difference anyway… seriously:
To them, you'll still be sitting in a virtual office or on a golden sandy beach! 🏖️
One thing to be wary of is that this muslin cloth screen is prone to wrinkling, which can ruin your virtual background. But don't stress, it's easy to fix; just remember to check for creases and steam/iron them out!
Key Features of the Fancierstudio Green Screen:
Includes a carrying case
Comes with a lightweight and versatile stand system
6' x 9' (183 x 274 cm) Chromakey Green muslin backdrop
Runner up Best Cheap Green Screen: Emart 6' x 9' Backdrop
Emart 6' x 9' Backdrop
This backcloth is the right choice if you're on a wafer-thin budget. You'll get a quality fabric green screen and four clips that'll teleport you to a clean, quiet virtual office.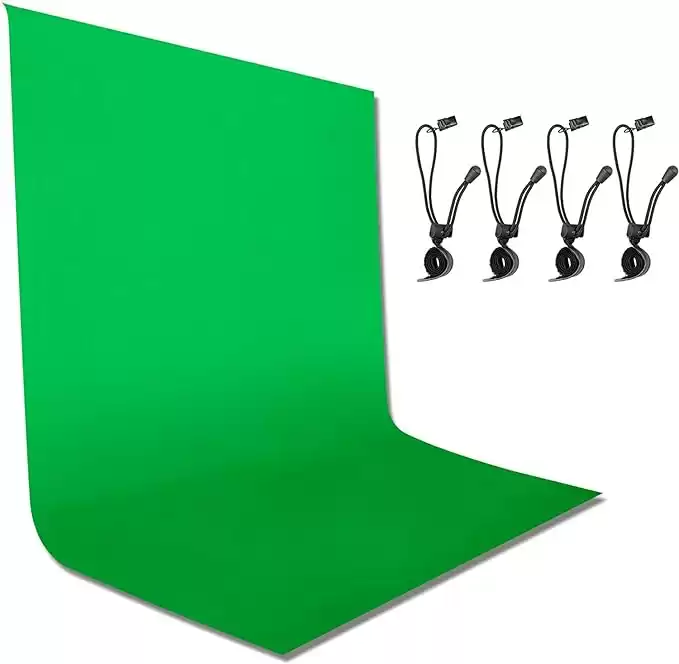 Calling all bargain hunters… we repeat, calling all bargain hunters:
The Emart 6 x 9 ft Photography Backdrop is a phenomenal cheap green screen for Zoom! For a fraction of the cost of leading equipment, you'll be able to impress all the Zoomers you come across with this quality muslin backdrop.
But, before buying, you need to realize that this Emart backdrop is essentially a green bed sheet that doubles nicely as a green screen. This means you can't hang it in front of a light source, like a window, or else it won't work.
If this doesn't bother you, then go ahead and order — you won't find a better deal!
Key Features of the Emart Green Backdrop:
Machine washable
Includes four clips to keep the green screen tightly stretched
6' x 9' (183 x 274 cm), seamless, 100% cotton Green Screen
Can get wrinkly, so be sure to iron/steam it flat from time to time
(if it turns out you need a stand, check out this budget-friendly option)
Best Zoom Green Screen for Attaching To a Chair: Webaround Big Shot Background
Webaround Big Shot Background
The Webaround Big Shot Background is a compact yet highly-effective solution for creating a professional (or wacky) virtual environment when you're on Zoom.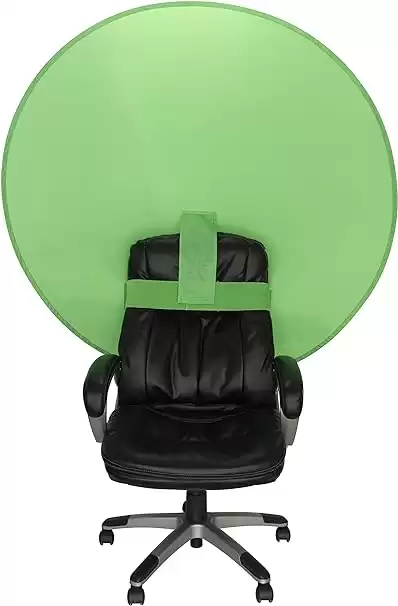 The Webaround Big Shot Portable Webcam Background is the best green screen for chair-based conversations. We absolutely recommend getting one if you have the bulk of your Zoom calls sitting down at a desk or kitchen table.
Why?
This innovative solution gives you a ton of extra flexibility by strapping onto the back of your chair rather than hanging (or standing) behind you.
This means that you don't need to have a home studio or create a studio-like environment to take full advantage of your green screen. You can use it from literally anywhere, be it your messy kitchen or your cramped spare room — perfect for a home office worker!
So… if you're tight on space or continuously changing rooms to keep sane when working from home (like me 😊), this Webaround panel is your best option!
Key Features of the Webaround Big Shot Background:
4' 8" (142 cm) wide when open
Made from durable, chroma key green 300D polyester
Fits the vast majority of office, dining, and gaming chairs
Storing is easy, folds down to a diameter of 21" (53 cm)
Conclusion
And that's it!
You've just finished your research phase — you've definitely learned more than enough about the market-leading green screens.
You know what comes next:
Pull the trigger on your favorite one and become the coolest cat in your team!
But before we leave you, here's a little treat for making it to the bottom of this article:
A link to Zoom's official curated list of the internet's best virtual backgrounds for your brand-new green screen!
Have fun virtual traveling and stay safe (and sane)!