There's nothing worse than getting home after a long day of taking photos, plugging your SD card into your laptop, and seeing the result…
And the lighting is terrible.
It's basically ruined your entire shoot; almost none of it usable.
Problem is, there's a metric butt tonne of LED lights to choose from, so how do you know which is best?
Well, that's why we're here, to bring you the best LED lights for every price range and for every purpose.
Let's do this.
What's the best LED lights for photography?
The Best LED Lighting For Photographers
Best LED light for photography: Profoto B10 AirTTL
Profoto B10 AirTTL
When you need the top of the line, no holds barred LED light for photography, you need the Profoto B10 AirTTL.
Nothing gets in between a professional photographer and a dope photo, except for horrible lighting.
The Profoto B10 AirTTL is the best LED light for photography because it has a super high CRI and and incredibly wide color temperature range.
Both of these are incredibly important to getting a fantastic shot.
CRI (color rendering index) is a measurement of how well a light source is able to faithfully represent the natural coloration of a given subject. That means that a light with a low CRI will make whatever it is you're shooting look unrealistic and kind of weird, whereas a high CRI means the light is closer to natural light.
At its highest point, the CRI rating on the Profoto B10 AirTTL is 96, which when you consider that the max rating is 100, is pretty damn impressive.
The color temperature range on this baby is incredibly wide, 3000K to 6500K! That means the light can put out a nice warm yellow light, or an incredibly natural white daylight.
What makes this light even more epic is that you can control it from the proprietary app. Plus, you can point and shoot with the light synced up to your camera, or switch it to manual mode and take over control.
Key Features of the Profoto B10 AirTTL:
Power Control: 10 Stops
Recycle Time: 0.05 to 2 Sec (Full Power)
Recharge Time: 90 Minutes
LCD Display
Best Bang for the Buck: Rotolight NEO 2 LED
Rotolight NEO 2 LED
Photography equipment can get pretty pricy, so if you're looking to get the most for your dollar, it's the Rotolight NEO 2 LED.
The Rotolight NEO 2 LED is the best bang for the buck light because for a reasonable price you get a fully professional LED camera light with a proprietary True Aperture Dimming technology.
That tech basically calculates your aperture at a given distance and adjusts the light accordingly. It also has a mode called Cinesfx, which allows the NEO 2 to create special lighting effects such as Fire, Gunshot, and Lightning.
The high-speed sync flash (1/8000th) is specially designed for portrait photography, so it's perfect for those of you who are looking to shoot photos of your clients.
The NEO 2 mounts directly to the top of your DSLR via a hot shoe adaptor so you can just point and shoot!
On the back of the light, you've got a nice light display and a couple of buttons for adjusting the color temperature, which can be a warm yellow 3150K or a white daylight 6300K, or pretty much anywhere in between.
That color temperature is adjustable for both the continuous lighting, and for the flash mode, which makes the Rotolight NEO 2 and incredibly versatile photography light.
Oh, and it also comes with a 4-piece filter kit, which consists of full and half diffusion filters, a cosmetic peach skin diffusion, and a magenta.
Key Features of the Rotolight NEO 2:
CRI: 96
TLCI: 91
Lumens: 1032
Wireless Range: 656′ / 200 m
Best Cheap LED photography light: VILTROX L116T
VILTROX L116T
It's always been difficult to find a cheap LED photography light that's worth using, until the Viltrox L116T came along.
Getting yourself a decent photography setup isn't a cheap venture.
Starting with a decent camera and lenses, and a stable tripod to set it all up on, you're probably already in the thousands.
So, if you're finding the budget running a little thing, you might want to start out with a cheaper LED photography light.
The Viltrox L116T is the best cheap LED photography light because for less than 50 bucks you'll have yourself an ultra-thin, ultra-portable lighting setup that even comes with a battery!
Many professional LED lights don't come with batteries, so the fact that the L116T does, as well as a charger, is pretty impressive. It also runs off of AC power if you're using it in a studio, which can give a more stable light output.
As you'd expect from an LED photography light, it has a variable color temperature, which allows you to dial in anything from a warm yellow 3300K to a daylight-esque 5600K.
One thing to note is that the Viltrox L116T doesn't come with its own lighting stand, so you'll need to purchase one separately.
If all of that wasn't impressive enough, the L116T is only an inch or so thick, and has a color rendering index of 95, which means it will faithfully reproduce the natural coloration of whatever you're shooting!
Key Features of the Viltrox L116T:
LCD display
Brightness adjustable from 20% to 100%
Comes with 2200mAh Li-ion battery and can be powered by NP-F550/F750/950 series battery
Best LED lighting kit for photography: Neewer 660
If you're dead set on being a photography pro and really amping up your shoots, whether you're taking photos of models or products, you need a three-point lighting system.
This allows you to have one main light (called a key light), a second light on the opposite side, and a light coming from the rear as well.
The Neewer 600 is the best LED lighting kit for photography because it comes with three LED light panels with 660 LED pieces in each, plus lighting stands for each and a handy carrying case.
Both the case and the stands are super well-built, and should give you many happy years of photography and video shoots.
Also included in the kit is a wireless remote control, which allows you to dial in the perfect brightness level and color temperature for each of the lights.
You can control them altogether (which is helpful for adjusting color temperature), or separately, as you would need to for creating different brightness levels for each of the different lighting angles.
Each of the light panels in the Neewer 660 comes with a set of barn doors for further direction of the light, and a soft light diffusion panel which ensures your lighting isn't too harsh, and reduces glare and shadows on your subject.
Key Features of the Neewer 660:
Color Temperature 3200-5600K
Power Source: Power Adapter (Included) or NP-F550 NP-F970 Li-ion battery (Not included)
Light Panel Size: 9×7.87×0.74 inches/23.2x20x1.9 centimeters
Best LED Softbox kit for Video and Photography: Neewer 2-Pack 480 LED Video Light Lighting Kit
Whatever you're shooting, whether it's a modeling shoot for your new line of apparel, or the latest video for your YouTube channel, you'll want to avoid harsh lighting and shadows.
To do that, you'll need some decent softboxes.
The Neewer 2-Pack 480 LED Video Light Lighting Kit is the best LED softbox kit because it's affordable, versatile, and built to last.
For less than $200, you get two pro LED lighting panels, two lighting stands, two softboxes, and a couple of bags for them too.
Those lighting panels each have 480 LED pieces in them, so you know they're going to do a decent job of getting the brightness you need. You can dial the brightness down though if it becomes too much.
This is adjustable via the rear panel on the light, as is the adjustable color temperature which ranges from 3200K to 5600K, meaning you can dial in a nice yellow light or a bright white daylight.
One of the coolest things about this 480 count LED lighting kit is that the softboxes are easily collapsible, making them not only super portable, but easy to set up and take down. It also means they're fairly compact, so they aren't going to get in the way on set.
Key Features of the Neewer 2-Pack 480 LED Video Light Lighting Kit:
Lumen: 3360Lux/m
480 LED Pieces (240 white+240 yellow)
Adjustable U mount bracket enables the light to rotate 360 degree
Power Source: Power adapter or Sony NP-F550 NP-F970 li-ion battery(not included)
Best Portable Light: Neewer LED Kit with Battery Compartment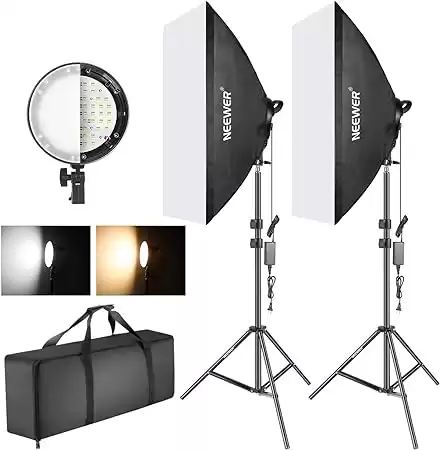 Whether you're growing your photography business, or just doing some on-location shoots for personal creative reasons, you're probably going to be shooting on the go.
And that means you need a super portable lighting kit.
In addition to being ready to be powered by battery, the Neewer Photography Kit is the best portable light because it uses dimmable 2- color temperature LEDs and all packs down into a single carrying bag.
Aside from the bulbs themselves, inside the bag, you'll find a couple of really sturdy lighting stands, and of course, the softboxes which mount onto the stands.
Those softboxes ensure that the light is super diffused and super soft, so there are no issues with harsh shadows. The stands extend to a super tall 74 inches/188 centimeters height as well, which means most of the time you can get over and above your subject and get a nice "from above" lighting angle.
Key Features of the Neewer Photography Kit:
CRI: 85 – 90
2 color temperatures: 3200K and 5600K
Adjustable Brightness from 1% to 100%
Light Stand Adjustable height ranges from 31 inches/79 centimeters to 74 inches/188 centimeters
Best on camera LED light: VILTROX L116T
VILTROX L116T
It's always been difficult to find a cheap LED photography light that's worth using, until the Viltrox L116T came along.
Sometimes you simply don't want to have to set up a big cumbersome lighting stand.
Sometimes, it's easier to just mount it onto the top of your DSLR camera, that's when you need something like the Viltrox L116T.
The Viltrox L116T is the best on camera LED light because it's super thin and incredibly lightweight. At its thickest point, it measures less than an inch, and it only weighs 260g.
That's super important when you've got it mounted on top of your DSLR, as anything more and you're going to start to get sore arms!
It also comes with a rechargeable F550 battery, though this will obviously add to the weight of the light. Still, it's pretty impressive that such an affordable LED light even comes with a battery! Most of them leave it up to you to buy one separately.
Size-wise, the L116T measures just 20cm by 13cm, so it's not huge, but that's exactly what you want in an on-camera LED light. Somehow though, it's still incredibly bright, and manages to pack in adjustable brightness and color temperature!
Key Features of the Viltrox L116T:
LCD display
Brightness adjustable from 20% to 100%
Comes with 2200mAh Li-ion battery and can be powered by NP-F550/F750/950 series battery
Camera LED light for product photography: Neewer R-160
Neewer R-160
If you're taking lots of photos of your products, you need an LED light that you can mount easily on your camera, like the Neewer R-160.
The Neewer R-160 is the best camera LED light for photography because it literally mounts onto the front of your camera lens.
The R-160 is known as a "mini LED macro ring light", meaning it's only a 10w light. That seems a little low, but it means the Neewer R-160 can be powered via 6x AA batteries!
Along with the light, you get 6 mounting rings for different types of lenses, as well as a handy cold shoe adaptor. Between those two options, or 7, depending on how you look at it, you can either mount the R-160 in front of your camera, or on top of it.
Somehow, the light packs in a massive 160 LED pieces, which means it's quite bright and perfect for product shoots.
If you're worried about a long-lasting product, don't be. The Neewer R-160 is rated for over 50,000 hours! That's a huge amount of time.
Considering a typical photo shoot might last 5 hours, that means you can use the R-160 for 10,000 shoots!
Key Features of the Neewer R-160:
Lumens: 1200LM
160 pieces LED pieces
Dimension: 6x6x1″/16x16x2cm
Conclusion
Whatever game you're playing, whether you're looking to be the next big-time photographer, or just taking a couple of tasteful "selfies" in your spare time, then photography lighting is going to incredibly important.
Most of the time, you're going to want an LED light, and that's why we've brought to you the nine best LED lights out there. If you can't find something in here for you, I don't know what to tell you!