So you're a food photographer and struggling to get that perfect shot.
Maybe you've conquered your setup and layout but can't seem to capture the right mood. Or the right contrast to really make your food photography pop.
Well you've come to the right place.
Here we'll show you 15 of the best lighting options and accessories for your food photography.
There are pro options and budget options. But the quality won't disappoint you.
You'll also find lots of food lighting options here to give you variety and versatility so that can create any style, mood, or vibe you need for every client or situation you encounter.
Let's get to it!
Best Food Photography Lighting: 15 Top Light Boxes & Flashes for Food Photography
Best Light Box for Food Photography – HAVOX – Photo Studio HPB-60D
HAVOX - Photo Studio HPB-60D
This portable Havox studio is great for getting consistent results in food photography images anytime, anywhere.
With a high CRI rating of 93+, the HPB-60D light box delivers a stable 5500K temperature from 120 dimmable LED bulbs which make it the best light box for food photography.
This best photo studio is adaptable.
With dimmable LEDs, and many options to adjust the placement of LED strips make dialing in where you want you light to hit, or not, simple.
To make it even more portable, Havox also includes a carrying bag for easy transportation.
Being able to carry a portable studio everywhere you go and making it easier to capture professional photos every time is what the Haxoc HPB-60D can do for you.
Key Features of the Havox Photo Studio HPB-60D
Stable internal lighting provided by 120 dimmable LED bulbs
Stable 5500K color temperature for images that always look consistently lit.
Great for close up food photos where you need a consistent backdrop scene
Best Budget Food Photography Light Box- Amzdeal Photography Light Box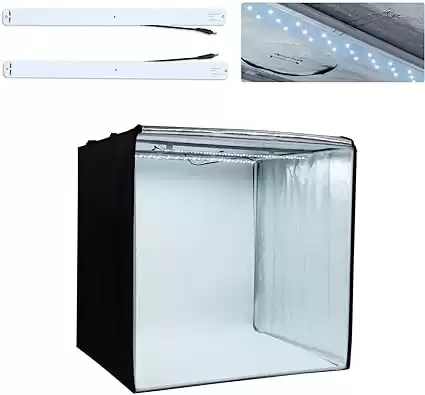 The inside of the Amzdeal Photography Light Box has a pair of LED light bands mounted to the top and if you need this light to be soft, there is an insertable diffuser panel to spread and soften the LED light.
It comes bundled with three different backdrops for getting different color scenes in your shot and they simply slide into the light box and are ready to go in seconds.
Amzdeal also thought about different angles. This best budget food photography light box has three separate shooting angles with a front port, a top port, and a wider angle front port to suit all your needs.
The wider angle allows you to shoot from multiple angles including some cool side on or angled shots.
The Amzdeal Photography Light Box comes in at a sizeable 32 x 32 inches, which will give you plenty of room for creative expressions.
Key Features of the Amzdeal Photography Light Box
32 x 32 light box size is perfect for larger photography tasks
Flicker-free LED lighting ensures your images are always well lit.
Three backdrops for changing the overall mood and vibe of your shot with ease
Best Cheap Light Box for Food Photography – Photo Studio Light Box Kit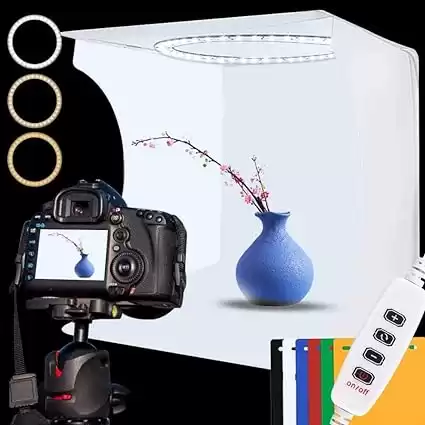 One huge benefit of using a lightbox is that it's a self-contained studio that you can take with you. This inexpensive studio light box folds flat for easy transportation and you can get it set up in seconds.
A fully lit studio anywhere you need it and 80 LED bulbs with adjustable temperature is why the photo studio light box kit is the best cheap light box you can get for food photography.
The light comes courtesy of 80 LED bulbs which provide a switchable temperature. You can choose White light, soft light, or warm light with a temperate range of 3200K to 6500K.
The LED lights in this light box kit are also dimmable with the internal control down to 1% of their total brightness. This means you can always dial in the perfect light level.
This particular photo light box is not enclosed so you can easily shoot from multiple angles while still keeping the all-white background in the shot.
Key Features of the Photo Studio Light Box Kit
Various color temperature lighting settings ranging from 3200K to 6500K.
Internal light comes from 80 dimmable LED lights mounted in the top panel
The foldable design is ideal for traveling photographers and it can be assembled in seconds
Best Food Photography Light- Elinchrom Compact ELC Pro HD 500
Elinchrom Compact ELC Pro HD 500
This extremely versatile light is great for professional food photographers. With a stable color temperature and multiple shooting modes, there something here for every job.
If you're a professional food photographer you need a light that will deliver the goods day after day, shot after shot.
The Elinchrom Compact ELC Pro HD is the best food photography light because of its incredible stable flicker-free color temperature as well as a super-fast flash duration of 1/5000 for those flying food images you may wish to include. It's also great for still images.
If you need a multi-light setup, you can chain up to 20 of these units together for a very comprehensive light setup.
With all the features combined, this little unit contains an entire lighting rig in a small package.
If you're looking for flexibility, the ELC Pro HD also has three different shooting modes so that you can get creative as you work.
Key Features of the Elinchrom Compact ELC Pro HD 500
You can chain 20 of them together for a powerful multi-light setup.
Stable color temperature for making food photos look natural and vibrant
Three shooting modes (Sequence, Delay, and Strobo) for maximum options when being creative
Best Affordable Food Photography Light – Elinchrom Compact D-Lite
Elinchrom Compact D-Lite
If you prefer to keep things compact, this small footprint light head would work well for food photography even in the smallest shooting spaces.
If you want to keep your setup super compact, either for lack of space or as part of a travel setup, you need to check out the Elinchrom Compact D-Lite.
This is a very light and compact light but it's also the best affordable food photography light on the market. For this price, it's hard to argue with what's on offer here.
It works wirelessly over a Skyport receiver and the flash recycle is very fast. It recycles in a max time of 1.6 seconds.
If you shoot in a variety of places, the Compact D-Lite is very flexible. It has an adjustable color temperature, dimmable LED lights, and a CRI of 93 to ensure that colors are accurately represented.
Don't let its small size put you off. It has just enough power under the hood to keep up with the big dogs in this league. It packs some real punch and would be a fantastic addition for a traveling photographer.
Key Features of the Elinchrom Compact D-Lite
Works wirelessly with an inbuilt Skyport receiver
High CRI of 93 to ensure that colors are accurately captured in the shot.
Adjustable color temperature for any photographers who work in a variety of environments
Best Cheap Food Photography Light- Neewer S-400N
Neewer S-400N
This budget offering from Neewer behaves like a light in a much higher price bracket. Don let the price put you off. This light is full of surprises and offers food photographers a very dynamic lighting solution.
If you're just getting into the world of food photography and you need to get a great lighting solution but you don't have a sky-high budget then take a look at the Neewer S-400N.
This is a perfect light for any start-up food photographers and it's the best cheap food photography light that you will find.
Considering its price point, it comes with a lot of features that you'd expect to see on a unit in a higher price bracket.
The back of the unit has an LED screen that you can use to adjust specific ranges. The panel displays the current output values of that setting.
The recycling rate is incredibly fast for a light of this price with a range of 0.3-1.5 seconds for a full recycle to full charge.
The S-400N is very light so it can be used as a handheld unit when you need to get up close and personal, or it can be mounted to a stand for a static light source. The underside of the unit also has an umbrella hole for adding a diffusing umbrella to help make the light soft.
Key Features of the Neewer S-400N
This light can be synced wirelessly over a 10m range
Recycles between flashes in a range of 0.3 – 1.5 seconds.
Lightweight for handheld use but equally at home on a stand.
Best Food Photography Lighting Kit – Godox 3 Pack SK400II
Godox 3 Pack SK400II
This all in one lighting kit would make food photography a breeze. It got all the tools you need for great-looking photos.
When you're starting, it's quite tricky to figure out which gear you need to get. A light set is always a good starting point. The best food photography lighting kit around is the Godox 3 Pack SK400II. It's got everything you could need to set up your first studio.
First, you get three of the SK400II light heads that will give a natural 5600K temperature lighting from the 3 light heads. The inbuilt wireless system allows you to sync all the heads together to time the flash perfectly across all three lighting points.
You also get a few additional accessories with the Godox Lighting Kit that will be very useful. This includes a barn door cover, 4 color gel filters, light reflector and diffusers, stands, and softboxes. Everything you need to set up a studio all in one place.
Key Features of the Godox 3 Pack SK400II
Natural-looking 5600K light temperature for capturing natural images
Wirelessly sync all 3 light heads together at once for perfect multi-angle flashes
Everything you need to set up your studio with lights, stands, and accessories including a reflector
Best Led Light for Food Photography- GVM Dimmable Bi-Color 900D LED Video Light and Stand Lighting Kit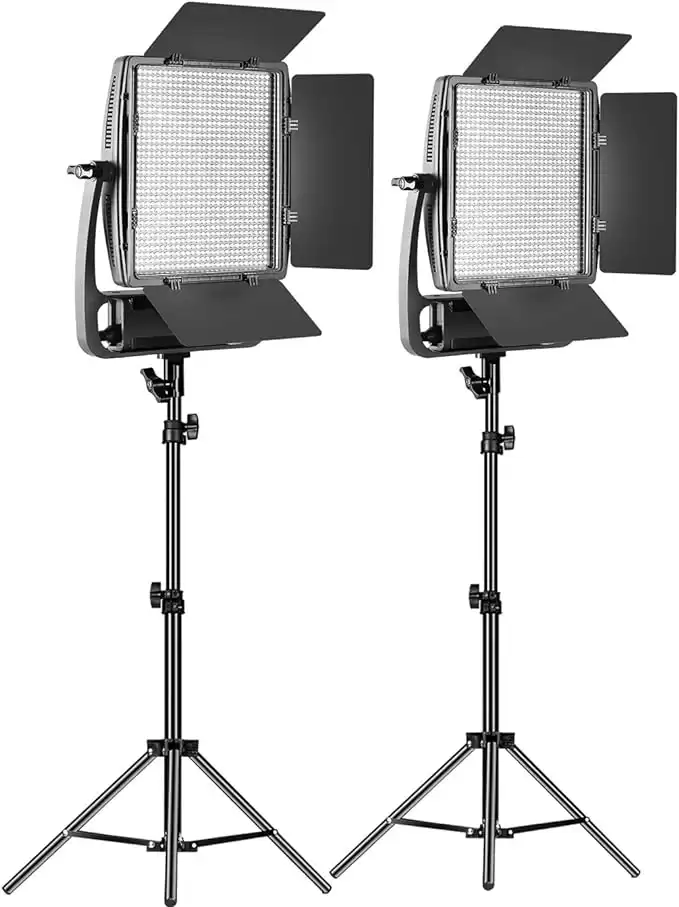 Multi-source lighting setups are great if you want complete control over how you light your photos. Having moveable lights allows full control of the side, front, and backlighting of whatever you are taking photos of. It's a good way to make sure you don't see any unwanted shadows or dark spots.
This light set from GVM is the best-LED lighting for food photography.
The pair of light heads give you full control over where the light is coming from. They're bi-color between a warm 3200K and a cooler 5600K for very natural lighting.
You can also dial in the perfect brightness with an adjustable setting from 1 to 100% of the total brightness.
While LED bulbs are known for being very low heat, this light kit also has in-built fans for extra cooling power so you'll never have to worry about them overheating in the middle of a shoot.
Key Features of the GVM Dimmable Lighting Kit
Control various functions with the remote mobile app
Lightweight but durable ABS plastic housing makes these lights easy to move around
Bi-color LED lighting with switchable color temperature for fine-tuning image temperature with ease
Best Ring Light for Food Photography- IVISII Ring Light
Ring lights are really useful for food photography. Their shape allows light to move around a subject. This is useful for taming those rear dark shadows cast onto certain subjects.
This ring light from IVISII is the best ring light for food photographers out there. It's made up of 240 LED bulbs which give off all the light you could need.
With a variable temperature between a warm 3000K and an open white 5800K, you won't have any trouble making your shot look natural on camera.
LED ring lights are long-lasting too. This ring light has an average LED burn time of 50,000 hours and their low energy design means you won't have any unnecessary heat coming off the light.
The LCD display on the ring light also allows you to control the brightness and temperature. This can also be controlled remotely using the included Bluetooth remote.
Key Features of the IVISII Ring Light
Adjust the temperature and brightness wirelessly using the included Bluetooth remote
Adjustable color temperature from 3000K to 5800K giving you warm to open white light
LED Bulbs have a lifespan of approx. 50,000 hours making this light very reliable and long-lasting.
Best Softbox for Food Photography- Westcott 26 inch Octagonal Rapid Box
When you have bright artificial lights, it can be tricky to capture the right type of light. The problem with food is that sometimes, it's reflective. This makes for some tricky images.
A good softbox diffuser will diffuse and add a soft edge to that light. It will also remove any unwanted bright spots or highlights which will give your image a nice, polished look. Too much of the harshness can ruin a shot. You want to make it look like natural light.
The Westcott Octagonal Rapid Box is the best softbox for food photography. It's portable and speedy to set up.
The 26-inch umbrella-style softbox simply folds down when not in use for easy transport.
It is linked to its mounting bracket so all you have to do is put it onto a stand and get to work. The mounting bracket is adjustable so you can always get the best direction for your lighting.
Key Features of the Westcott 26 Inch Octagonal Rapid Box
Collapsible umbrella design for easy setup and pack down
Inbuilt mount so all you have to do is connect it to a stand.
26-inch diameter for widespread and diffusion of artificial light
Best Flash for Food Photography: Elinchrom Compact ELC Pro HD 500
Elinchrom Compact ELC Pro HD 500
If you trying to capture the perfect images of great looking drinks, the ELC Pro HD 500 would give you a tonne of lighting options.
Food can be pretty tricky to capture on camera. This means you have to nail that lighting.
Starting with a good light head is the best place to start. If you're looking for the best food photography light then check out the Elinchrom Compact ELC Pro HD 500.
This small light head has a lot of power and as a single light source, you can direct it perfectly towards the food or drink that you're trying to capture.
It has a built-in umbrella mount which is a great bonus. You can mount an umbrella diffuser to the front of the light head to soften and spread the light source more evenly.
The ELC Pro HD 500 also gives a stable color temperature and brightness so if you are shooting colorful food, all the colors will appear natural and vibrant in your photo.
Key Features of the Elinchrom Compact ELC Pro HD 500
Stable color temperature for capturing vibrant looking images.
The small light head makes it easy to direct when working as a single light setup.
You can mount a diffuser umbrella straight to the front of the light for easy softening of the light
Best Portable Light For Food Photography – LitraTorch 2.0
LitraTorch New 2.0
Are you traveling light? The LitraTorch 2.0 is a portable food photography light that you can take anywhere you go.
We earn a commission if you click this link and make a purchase at no additional cost to you.
If you need something super convenient for traveling light, check out the LitraTorch 2.0. This portable light happens to be the best portable light for all your food photography enthusiasts out there. Not just because it's portable, but because it's awesome.
This small but might unit packs a punch from its 16 LED bulbs. Giving you 5700K color temperature and 800 lumens of brightness, just because it's small, it doesn't mean it behaves like a small light.
It can be used as a hand help light, you can place it onto a table, or you can mount it to most standard lighting stands with ease. This makes the unit very flexible.
The LitraTorch 2.0 is also waterproof up to 20 meters, so if you ever decided it needed to get wet for your food photography, you're in safe hands.
Key Features of the LitraTorch 2.0
Stable, flicker-free 5700K daylight style lighting
Wireless operation. It runs off a rechargeable Lithium-ion battery
Portable and compact, it fits into any bag and allows you to travel light
Best Handheld Light for Food Photography- Yongnuo YN360 III
Yongnuo YN360 III
This lightweight, handheld light stick makes it easy to control exactly where you want the light while you shooting great looking food images.

If you need an artificial light that can do RGB tints for your food photography then you'll love the Yongnuo YN360 II. This is the best handheld light that you could use for food photography.
It might sound tricky holding it by hand, but if you wanted to, you could also mount it to a hand. The fact its handheld allows you unparalleled control over where you light and when.
On the handle, you have a touch screen with an RGB color temperature adjuster. You can dial in the perfect color temperature across the whole RGB spectrum.
It also has a natural fill mode with 3200K or 5500K temperatures on offer.
420 fully RGB LEDs make up the long panel on the front of the YN360 II and you can even use these to simulate a range of lighting scenarios like sunrise, sunset, lightning, or even the flashing of police vehicles.
Key Features of the Yongnuo YN360 II
Presets to simulate sunrise, sunset, and more
Can be controlled manually from the unit or wirelessly from the phone app
Fully RBG color temperature means you can dial in the perfect shade lighting for any task
Best Light for Food and Drink Photography – Elinchrom Compact ELC Pro HD 500
Elinchrom Compact ELC Pro HD 500
The ELC Pro HD 500 is a professional level, standalone flash. They are very high performing units and has a very fast recharge rate for all the speedy snappers out there!
If you're shooting food and drink images you always want your images to look, killer. But how do you capture natural-looking images that you're in full control of using an artificial light source?
Easy. You get yourself an awesome light head. For some applications, one light is enough. The Elinchrom Compact ELC Pro HD 500 comes as one light head, but the great thing is that you can extend this to a multi light head set up further down the line. This is great if you need two, three, or beyond.
This is the best light for food and drinks photography because it packs a punch. It's bright, stable, and provides a light source that looks like natural light.
It can be synced with other ELC Pro units to a multi-flash setup if you need to be going to a bigger set up at any point.
The internal cooling fan keeps the unit cool and prevents unwanted overheating. The cooling system is automatically activated by an internal temperature sensor when it detects the unit getting too hot.
Key Features of the Elinchrom Compact ELC Pro HD 500
Multiple flash modes including strobe, delay, and sequential.
Works perfect as one light source but can also be synced with other Pro HD 500 units for a multi-light setup.
The internal fan cooling system keeps the unit from overheating and is automatically activated when the unit gets too hot.
Best Drink Photography Light- Elinchrom Compact ELC Pro HD 500
Food Photography Lighting Tips
As you start to dig deeper into different photography topics and spend more timing doing what you love, there is always the need to learn something extra to help you boost your focus and take your work to the next level.
Here are a bunch of frequently asked questions and tips that will help you get things done the right way every time.
What is the best lighting for food photography?
The best lighting for food photography is diffused natural light. A light that looks too processed or too artificial would not translate well to images and will look unflattering on camera. Try to avoid onboard flashes or phone camera flashes as these are often not natural looking.
Get yourself a good external artificial light source with a natural color temperature and you will see a huge difference in how your images look.
Can you use a ring light for food photography?
Absolutely. The IVISII Ring Light is a fantastic ring light for food photography. With an adjustable color temperature and brightness for fine-tuning the light from the ring shape design is an affordable food photography lighting setup.
Why use backlighting for food photography?
Backlighting can add some wonderful detail to your food photography images and set the scene. It gives you both highlights and shadows in your photos. Backlighting makes images look like they've been shot in natural light. It also helps the image look brighter and better illuminated.
How do you use natural light in food photography?
Natural light can be used either by an artificial light source the recreates natural light, for example, a light head that gives off 5700K daylight temperature lighting, or by a combination of a good natural lighthead and real daylight.
The more natural light you can put onto food photography the more natural and vibrant the photos will appear.
How do you use a softbox for food photography?
In food photography, a softbox is useful for making an artificial light source soft and diffusing any harsh highlights that can come off a directional flash. Simply place the softbox over your light head. Most light heads will have an attachment for this. The softbox will take the edge off the flash and spread the light softer and more evenly around.
How do you use a reflector in food photography?
A reflector is a useful addition in food photography because you can add highlights and soften shadows. Silver or white reflectors work best as they reflect the most amount of light into the shot. Depending on where your light source is, some shadows can look overly dark.
If you place a reflector in the right place it helps add a little highlight to those dark shadows. It's also useful to help tame any dark patches caused by backlighting or side lighting.
What are the best camera settings for food photography?
Camera settings can change based on a lot of options. The scene, where the light is coming from if its natural or artificial light and even what type of camera you are using. Here are some simple tips you apply to your camera to start but please start using your own eyes and judgment to create a great shot.
You always want your images to be bright and vibrant. If you're shooting in a bright place, using an ISO of 100-400 is sufficient. For low light try using it set somewhere between 400-1600. The lower the ISO, the more in focus the image. Always try using the lowest ISO you can use.
Setting your aperture should be based on what you see. Make creative judgments about how you want the depth of field to look.
If you have a low ISO, a shutter speed of around 60 will be fine. As you push the ISO up. the shutter speed should also be bumped up.
For white balance settings, this depends on your creative eye. As a rule, a 5500K white balance is said to be natural light temperature. From here you can make decisions on if you want it higher or lower.
Use your eyes and try to see in the camera what you expect to see in the final image.
What shutter speed should you use for food photography?
Shutter speed is dependant on a few factors. A good place to start is whatever length lens you have, let yourself imagine you're shooting on a 30mm lens, set the shutter speed to double that. So you'd set it to 1/60th of a second. This helps the shot appear crisp and in focus. This is fine in artificial or day light.
If you're working with action shots where items of food might be moving, you'll want a higher shutter speed.
If you're working with the ISO set to boost light in a dark scene, you'll want to set a much slower shutter speed to allow the light to enter.
When shooting on a much longer shutter speed you have to keep your hand super still. If you can't keep still, use a tripod to help that camera sit perfectly still.
Conclusion
There you go! You made it. You must be feeling pretty pumped now right?
You've learned a lot of new things all about how to get killer lighting for food photography. If you're a seasoned pro already that wants to up your lighting game, or someone who's just taking their first bite of this world, there will be something in this article for everyone.
Now it's down to you. Go grab your camera and go and create some tasty-looking photos. Go do that thing you love and create something special
Next time you see your photos, combined with your new lighting rig, you'll be super happy. I know you'll love what you end up creating after this.
Waiter, cheque, please.