Ready for your apparel to look better than ever? Then you're going to need to light it properly. No more iPhone photos with portrait mode on!
So, today you will learn the absolute best lights and light kits for clothing photography.
But before we dive straight into that, there's one thing you need to know that will really turn your photography shoots from zero to hero…
Light Diffusion Will Make Or Break Your Shoot
Before we get into the 13 lighting kits that are going to make your apparel shine, let's talk quickly about making sure it doesn't literally shine.
You see, when you're using a lighting kit for a photography shoot, your light is coming from a single point. Well, it might be two or three points, depending on how many lights you're using, but you get the point.
Why is this a problem?
Well, it tends to create shadows and reflections that are unwanted, to put it nicely, and can wind up ruining your entire shoot.
If you want to present your clothing in the best light possible (pun intended), then you'll want some form of softbox, lighting umbrella, or light diffusion to create a softer light.
Many of these kits come with one or the other, but we'll be sure to point out those that don't so that you know you'll need to diffuse the light yourself!
13 Lighting Kits That Will Take Your Clothing Photography To The Next Level
Best Light For Clothing Photography: Godox AD600Pro
Godox AD600Pro
Don't skimp out on cheaper flashes that change color over time, check out the AD600Pro, and make sure your clothing shoots are consistent.
The Godox AD600Pro is the best light for clothing photography because its wireless tech is compatible with the big brand cameras you know and love.
When it comes to clothing photography, a good flash is essential, especially for modeling. The AD600Pro certainly ticks that box; its one of the best flashes out there, and there's a reason for the Pro in its name.
For starters, it has an insanely stable color temperature (+ or – 75K), which is important for maintaining consistency across a shoot. Unlike cheaper units, this light is stable across the entire power range, so you don't have to worry about consistency falling away as the battery gets low. The last thing you want is a bunch of photos that don't look alike!
You can connect and sync the AD600Pro to camera models from Canon, Olympus, and Sony, among others, thanks to the light's 2.4G wireless X system, and it even syncs with other Godox flashes like the TTL outdoor flash.
The lithium battery back that comes with the AD600Pro is good for 360 pops, which should be more than enough for a single clothing shoot. However, you can still plug this baby into AC power if you need just one more shot.
It's not a cheap and cheerful unit, by any means, which also means its quite heavy. The AD600Pro is solidly built and weighs in at around 3kg, so you'll want to make sure you've got a decent lighting stand ready!
Key Features of the Godox AD600Pro:
38W LED Light
Power Control: 9 Stops
Maximum Power: 600 Ws
Color Temperature: 4800K
Flash Duration: 1/10,000 to 1/220 Sec
Recycle Time: 0.01 to 0.9 Sec
Best Bang for the Buck Light: Neewer Photography Lighting Kit
The Neewer photography lighting kit is our best bang for your buck kit because it comes with four lights and diffusers, three backdrops, a backdrop frame, and a selection of reflectors.
That's pretty crazy considering the kit doesn't cost much more than $250!
Let's take a look at what makes this Neewer kit so damn good.
The kit comes with four lights, all of which are continuous CFL bulbs, and they all come with sturdy lighting stands. You even get a case to carry them all in.
What makes these lights epic is you get two softboxes and two diffusion umbrellas. Without these, your lighting is going to be harsh, abrasive, and probably cast shadows. In short, you're not going to have a very good shoot.
With the right diffusers in the right places though, you're winning all day.
The backdrop options are green, white, and black, which is pretty much all you'll need! The white backdrop is perfect for apparel photography, and the green is, obviously, good for green screen effects.
Achieving a brilliant modeling shot is not just about your lighting, it's also about reflection. The Neewer photography lighting kit comes with translucent, silver, gold, white and black reflectors, which are compatible with any standard reflector stand (not included).
Key Features of the Neewer Photography Lighting Kit:
4 x 45W Light Bulb
4 x 79inches Light Stands
Color temperature: 5500K
8.5fx10ft Background Support System
2 x 33" Umbrella & 2 x 24×24" Softboxes
3 x 6×9 ft fabric Backdrops (Black, White, and Green)
42inches 5-in-1 Reflector(Translucent, Silver, Gold, White and Black)
Two carrying bags – one for the backdrop and one for the lighting system
Best Cheap Light For Clothing photography: GODOX E250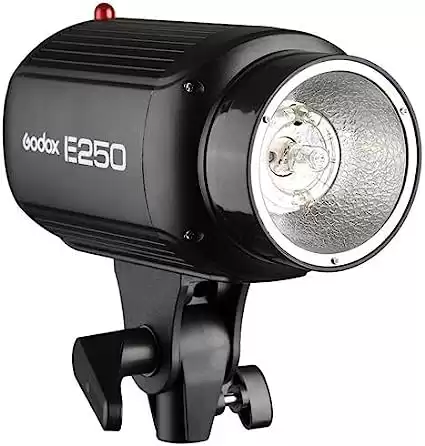 The Godox E250 is the best cheap light for clothing photography because it offers a number of solid core features and slides nicely under $80.
The E250 is a 5600K daylight-balanced flash source which is perfect for clothing photography and it creates a bright, white light that is nice and natural.
The flash can be triggered from your camera via a sync cord, or using Godox FT-16 trigger which allows you to control the power ratio, modeling lamp, and buzzer as well. Don't worry though, you can still control these from the rear panel, and set it to any of the 9 power levels available using the LED panel on the back.
The Godox E250 has a reasonable level of stability (within 2%), so your shots won't come out all looking different!
This light is fantastic for anyone on the run, as it weighs in at just 2.6lb. This is mostly due to the fact that the E250 doesn't use a battery pack, so you'll need to plug this into an AC power outlet.
It even integrates with point-and-shoot cameras that employ pre-flash by using its internal anti-pre-flash setting.
Key Features of the Godox E250:
Max Power: 250W
Tungsten 150W Light
Power Control: 9 levels
Recycle Time: 0.3 to 2.0 Sec
Flash Ready Indicator: Audio
Color Temperature: 5600K ± 200K
Flash Duration 1/2000 to 1/800 Sec
Best Light Box for clothing photography: TRUMAGINE Light Box
The Trumagine Light Box is the best light box for clothing photography because with a total of 768 LED beads across 8 different light strips it is able to light your apparel from all angles and make your product shine.
Sometimes one light just isn't enough. Sometimes, even two or three different lights can't do the trick.
That's when you need a photography light box.
These babies allow you to have your product or model literally inside the lighting tent, which not only means you can light it pretty much perfectly, it also reduces shadows which make your product look less than desirable.
Inside the Trumagine light box is a heat resistant silver reflector which surrounds your model and distributes the light from the 8 LED lighting strips effectively.
One thing I really like about this light box is it's super transportable. Obviously, you have to pack it down and set it up every time, which might be a little inconvenient for you, but the design of the light box makes this as simple as it can be, and it even comes with a carrying bag to fit everything in!
It's available in a few different sizes, though if you plan on taking photos of adults, we'd recommend going for the largest one which measures in at 47x39x78 inches.
Key Features of the Trumagine Light Box:
Color Temperature: 5500K
Includes 3 white soft cloths
3 color PVC background boards (White, Black and Blue)
Carrying case makes this a very transportable light box
Equipped with 8x LED Dimmable Beads Strips (each strip contains 96 led beads)
Best Ring Light For Clothing Photography: IVISII Ring Light
IVISII Ring Light
There are some settings where a ring light is a better option, and when you need the best ring light for tattoos, the IVISII is your go-to choice.
The IVISII Ring Lightis the best ring light for clothing photography because it's a bi-color ring light with adjustable brightness and color temperature via remote control.
There's nothing better than being able to adjust lighting settings from the comfort of your director's chair, and the IVISSI ring light makes this simple by providing a wireless remote control.
With it, you can dial the brightness up or down, or adjust the color temperature from a nice warm 3000K to a super white 5800K.
The IVISSI ring light comes with it's very own stand (yay), as well as a cold shoe adaptor and phone mount. That means you can attach your DSLR or iPhone to the centre of the ring light for perfect positioning!
It even allows you to adjust the lighting angle with 180-degree flexibility, which is epic for being able to perform flat lay photography for your apparel.
Inside the ring itself are 240 LED pieces, which have a service life of about 50,000 hours. If your average shoot is about 4 hours, you should be able to use this guy about 12,5000 times, which is probably more than the number of shoots most photographers do in 10 years!
Key Features of the IVISII ring light:
240 LED Bulbs
19″ LED ring light
Built-in 2.4ghz receiver
More than 50000hrs of use
3000K-5800K adjustable color temperature
Brightness can be changed from 1% to 100%
LCD display shows clear brightness and color temperature readings
Best Budget Fluorescent Kit: Neewer 700W Lighting Kit
The Neewer 700W Lighting Kit is the best budget fluorescent kit because you can get a professional light kit for under $100!
That's right, for less than a Benjamin you'll have yourself a pro two-point lighting system with softboxes.
Don't overlook the importance of those softboxes either, they're what will turn an otherwise 'okay' shot into one that really makes your clothing shine – but not in the bad way!
You see, these two softboxes are excellent light diffusers. Or, you can take the white diffuser off and beneath is a silver nylon reflector which intensifies the light source!
So, it's actually a 2-in-1 lighting kit…
Plus, the softboxes mount to your lighting stands (also included) on a lamp holder with an adjustable angle. This has a range of up to 210 degrees, so you can pretty much aim the light wherever you need to!
You'll get two 85W CFL tube lights which emit 5500K daylight color, but what's great is because they connect via a standard E27 socket, you can plug whatever bulb you want. So, if you're after a more mellow yellow kind of light, simply grab a couple of 3200K bulbs!
All of this excellent photography lighting gear comes in a ready-to-go carrying bag, making it easy to hit the road and get to your next shoot.
Key Features of the Neewer 700W Lighting Kit:
Carrying Bag
Voltage:110V
2 x 88″/224cm Light Stand
2 x 85W 5500K CFL Light Bulb
2 x 24″X24″/60x60cm Softbox With E27 socket
Best Umbrella Light for clothing photography: Emart Photography Backdrop Continuous Umbrella Studio Lighting Kit
The Emart Photography Backdrop Continuous Umbrella Studio Lighting Kit is the best umbrella light for clothing photography because it comes with its very own green screen!
If you're looking for a simple and affordable way to show off your new range of apparel, then check out this kit.
What better way for your buyers to see how great your clothing looks than to see it in action? That's exactly what you can do with the green screen that's included in this kit.
Want it to look like your model is wearing your clothing in the streets of Milan? Perhaps on a rooftop in KL? It's all easy with this lighting kit, with its 6x9ft muslin backdrop and 10ft support frame.
In addition to the green screen and support system, this kit comes with two lighting stands with CFL bulbs, and two white umbrellas for light diffusion.
These umbrellas are really valuable for creating a soft and diffuse light source. Compared to softboxes, lighting umbrellas create a broader and more diffuse light that is similar to outdoor lighting. It's less controlled than softbox light, but because it creates that 'outdoors' effect, it's perfect for green screening where you plan on keying in an outdoor background.
Key Features of the Emart Photography Backdrop Continuous Umbrella Studio Lighting Kit:
Color Temperature 5500K
Backdrop support – 8.5ft x 10ft
2 x 33" White Umbrella with 2 x 45W Studio Light Bulbs
Comes with a carrying bag for backdrop support system
Green Chromakey Muslin Backdrop Background Screen Kit – 6x9ft
Best Budget Umbrella Light: Emart 600W Photography Studio Day Light Umbrella
The Emart 600W Photography Studio Day Light Umbrella is the best budget umbrella light because it's a full three-point lighting system with four umbrellas.
Wait, four umbrellas, but only three lights?
Yes, the Emart 600W Photography Studio Day Light comes with two different types of umbrellas (two of each): two translucent white umbrellas and two black/silver reflector style units.
What this means is you can mix and match the types of umbrella you're using depending on the shoot.
The white umbrellas are perfect for creating a really soft, diffuse, natural light, similar to what you'd get in an outdoor shoot. On the other hand, the black umbrellas with their reflective silver inside are better for creating a more direct light that you can focus directly on your clothing.
So, what you might do is have one light set up with the reflective umbrella, which you could use to highlight certain aspects of your apparel. The other two lights could then use the white umbrellas to fill in your subject with a soft, diffused light source.
In addition to the three lights and the four umbrellas, you'll get two collapsible lighting stands which can extend up to 83 inches, and one 33 inch stand. All of this comes in two heavy duty carry cases, one for the bulbs and one for the remainder of the kit.
Key Features of the Emart 600W Photography Studio Day Light Umbrella:
3x 45W CFL Bulb
Color Temperature: 5500K
2x 33 inch Black/Silver Reflector Umbrella
2 x 33 inch Translucent White Soft Umbrella
2 x 83 inch Photography Light Stand and 1 x 33 inch Photography Light Stand
Heavy Duty Carry Case, Stores the Entire Kit and one Case for the Light Bulbs
Best Light kit clothing photography: Neewer Photography Lighting Kit
The Neewer Photography Lighting Kit is the best light kit for clothing photography because it comes with four lights, three backdrops, two softboxes, two white umbrellas, and lighting stands.
That's a decent kit for the money, but there's so much more included.
You also get five different light reflectors, which are ideal for clothing photography as it means you can really focus the light and highlight different color palettes, a tripod for your camera, and carrying cases for it all!
Literally the only thing you need to add to this kit is a camera (or your phone), and you're good to go.
The backdrop frame is sturdy, and extends up to 10ft. From it, you can hang any of the three included fabric backdrops (you get black, white, and green), and create the perfect setting for your next apparel shoot.
What's epic about this kit is you get a total of four lights and stands (more than you might even need for many shoots), and you get softboxes and diffusion umbrellas. The white umbrellas are great for creating a natural, outdoor-style light, while the two softboxes can be used to create a more directional light that is still soft and flattering on your subject.
Key Features of the Neewer Photography Lighting Kit:
4 x 45W Light Bulb
4 x 79inches Light Stands
Color temperature: 5500K
8.5fx10ft Background Support System
2 x 33" Umbrella & 2 x 24×24" Softboxes
3 x 6×9 ft fabric Backdrops (Black, White, and Green)
42inches 5-in-1 Reflector(Translucent, Silver, Gold, White and Black)
Two carrying bags – one for the backdrop and one for the lighting system
Best Cheap Kit: Mountdog Softbox Lighting Kit
The Mountdog Softbox Lighting Kit is the best cheap kit because it slides in nicely under $100, and gives you pretty much everything you need to start taking epic clothing photos on a budget.
Here's what you get: three aluminum alloy light stands with boom arms, three Mountdog soft boxes, and three 95W CFL bulbs.
The light stands are fantastic. They can extend up to 80 inches high, which is more than enough to light your clothing or model from above. The included boom arms are invaluable, as they ensure you can get up and over your apparel and light it from the perfect angle.
Speaking of getting the perfect angle, the softboxes have a 210 degree range of rotation, so you can point wherever the heck you like!
To keep the stand and boom from falling over, Mountdog have included three sandbag counterweights, which on their own would probably cost half the price of the kit anyway…
Oh, and they've chucked in a carrying case for it all as well!
The great thing about this kit is it comes with three 95W fluorescent bulbs, which have an equivalent output of 950W (compared to incandescent bulbs). This is ideal for those of you who have your own studio, as it means you are going to keep power costs well down.
Key Features of the Mountdog Softbox Lighting Kit:
Carrying bag
3x light stands
3x softbox diffusers
Comes with sandbag counterweights
3 x 95W CFL bulbs with standard E27 socket
Softbox lighting angle can be 210°adjusted
Aluminum alloy 54″ Long Boom Arm, Holder Arm Grip