You want your jewelry images to be bright and vibrant and really captivate the viewer.
In this article you'll find the best lighting options for jewelry photography and how each item will benefit you as a photographer.
So if you've got your camera ready, and you've got your jewelry, let's get down to business and talk about lights, shall we?
Here we go.
Best Lighting for Jewelry Photography
Best Lighting for Jewelry Photography
Best Jewelry Photography Light: Profoto B10 AirTTL
Profoto B10 AirTTL
The B10 ticks a lot of boxes for jewelry photography. It's powerful, compact and lightweight and it has a range of adjustable features that suit all needs.
Which light is recommended for jewelry photography?
The Profoto B10 AirTTL is the best jewelry photography light for many reasons.
From an adjustable color temperature of 3000K right up to 6500K, dimmable brightness you can take it all the way down to 10%, and a speedy flash recycle time (how does a 2 second max sound?).
It does all this for your jewelry photos and more.
It operates over it's own 2.4G wireless network so it can be paired with your camera, or one of the 120+ other cool add ons that Profoto makes, including the remote for wireless control.
The Profoto B10 AirTTL light is also great for traveling. It can be run off a power source or a battery and it weighs in at just 1.5kg with the battery added. You could slip this into your suitcase and take it wherever your work takes you.
Key Features of the B10 AirTTL
Operates wirelessly and pairs with 120+ other products from the Profoto range
Lightweight and durable. Weighs just 1.5kg with the battery pack.
Super fast recycle rate for the flash. From 0.05 to 2 seconds.
Full adjustable color temperature and brightness
Gives you up to 400 full power flashes from a single battery charge.
Best Bang for the Buck: Godox AD600Pro
Godox AD600Pro
Do you need a light that does it all without breaking the bank? The Godox AD600Pro offers maximum tweakability and some serious bang for your buck.
Here's a little bit of good news..
If you're a pro or a hobbyist, great lighting is never out of reach or out of budget. The Godox AD600Pro gives you the best bang for your buck.
Sure, it's not the lowest priced unit in this article, but this light will give you pro grade lighting at a reasonable price.
What makes it so great you say?
Firstly, it's super versatile.
You get a lighting head with a stable 5600K color temperature, adjustable brightness levels, long life battery and wireless operation.
That's not even everything it can do!
The stable color temperature is such a useful addition to any photography studio.
Consistent and stable color temperature means your images will look uniform and it also reduces the work you need to do in post-production.
The battery is built for long sessions, offering 360 flashes at full power from a single charge.
It also operates wirelessly and can be paired with auto flashes from Sony, Canon, Fujifilm and more. Whatever your setup, the AD600 should slot in nicely.
The flash duration is also adjustable from 1/220 to 1/10100 seconds, giving you plenty of options when capturing images.
Key Features of the AD600Pro
Stable 5600K color temperature for consistent image capture
Allows for up to 360 full power flashes on a single battery charge
Works wirelessly up to 100m and can be paired with all the major brands of auto flashes.
Option to delay the flash up to 30 seconds
Speedy recycle time with a max time of 0.9 seconds.
Best Cheap Jewelry Photography Light: Elinchrom Compact D-Lite RX One
Elinchrom Compact D-Lite RX One
Wireless operation and speedy flash recycle rate on a powerful light head that's ideal for use as your first great compact studio light.
If you're brand new to the world of jewelry photography and you're looking for a great light to kickstart your new passion, check this one out.
The Compact D-Lite RX is the best cheap jewelry photography light out there. It offers up some pro features at a price so low, you might not even believe it.
Sounds too good to be true right?
This is a killer light for the price. It's hard to find anything else in the same price range that delivers as much as the D-Lite RX.
It's portable. This is always great for hobbyist photographers because many people just starting out will be doing so from their spare room. Having a compact light is a huge space saver.
The recycle rate on this can rival some of the big names in this article. It operates between 0.5 and 2.6 seconds. 2.6 seconds is a little slower than some of the best on the list, but it's still pretty fast.
This Compact D-Lite RX unit can only be powered by a power plug, which is attached to the unit. This means it can't be used wirelessly on location, but as a static light or in a studio environment you won't need to worry.
Key Features of the D-Lite RX One
Weighs just 0.9kg making it perfect for a portable travel light
Simple design is ideal for first time photographers to learn lighting skills
The attached mains cable makes it a great home studio light to be left set up.
Recycles flash power between 0.5 and 2.6 seconds
Has an audio and visual indicator when the flash is fully charged and ready to go.
Best Light Tent for Jewelry Photography: LimoStudio 24″ Photo Box Tent
LimoStudio 24" Photo Box Tent
This 24" photo box is the perfect backdrop for all your jewelry photography needs. It's the all in one mini studio.
Are you shooting your jewelry photos on a table? Or perhaps you're trying to create a studio feel in your spare room.
Let's talk about a light tent.
This light tent is the best one for jewelry photography for a few reasons.
The first reason is it's an all in one, mini studio that you can keep anywhere you want. It has 4 mini spotlights, gel filters, backdrops and a camera stand. What else could you possibly need?
The 4 mini lamps all have a stable 5500K temperature and stand at just 9.5 inches. This means they can be used anywhere, even if space is a premium.
The overall tent is 24x24x24 inches so it's big enough to fit jewelry and other items, but small enough that it can be easily packed away.
It comes bundled with 4 backdrops in red, blue, white and black as well as 4 color gels (2x yellow and 2x blue) for the spotlights to warm or cool the overall lighting.
To ensure your photos are steady, they've even thrown in a mini tabletop camera stand which also doubles as a smartphone holder for phone photography too.
If you want a mini studio you can use anywhere, you've found it in the LimoStudio 24" Photo Box Tent.
Key Features of the Photo Box Tent
24 inch tent is perfect for even the smallest working areas.
Acts as an all in one photography studio for your jewelry photos. Just add your camera or smartphone
Includes 4 mini spotlights for multi point lighting
Stable 5500K color temperature lighting for consistent looking photos
Includes 4 backdrops and 4 color gels for getting the perfect look every time.
Best Light Box for Jewelry Photography: FOSITAN Photo Light Box
FOSITAN Photo Light Box
This is a portable light box with efficient LED lighting that can be set up and ready to go in seconds.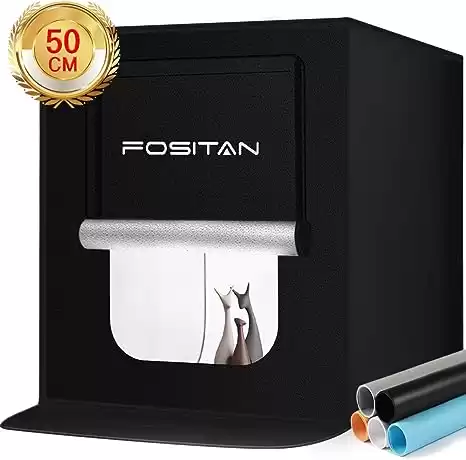 If you ever need to take your studio with you, you'll need a portable light box.
This light box from Fositan is the best for jewelry photography on the move. It pops up in seconds and folds flat in an instant.
The structure is one piece so there is nothing fiddly to set up. Fotsian quotes this as a 3 second set up time.
Pretty impressive, huh?
That certainly isn't going to slow down your shoots.
It also has self contained LED lighting.
LED lights are awesome for a few reasons. They're super efficient, low heat, long life and high quality.
The LED lights in this light box offer you a CRI of 92+ for accurate colors and they are dimmable down to 1% of their total level.
If you like to experiment with different backgrounds you also get 5 rolls of background paper. Whatever you're shooting, you can always find the perfect backdrop for it.
At the top of the light box there is a removable light diffuser to help with taming any unwanted reflections or highlights on any items.
The sides of the Fositan light box unit further help with reflections with their anti-glare coating.
You might also be wondering how to power this thing right?
The power supply is also internally housed. All you have to do is velcro the sides together, plug it in and you're ready to shoot great photos.
Key Features of the Photo Light Box
Portable light box that can be set up in 3 seconds due to it's one piece design.
High 92+ CRI rating for accurate color reproduction in images
LED lighting is long life and high efficiency.
Includes 5 background paper colors for creating different settings
Adjustable brightness level from 1% to 100%
Best Lighting Kit for Jewelry Photography: Neewer 800W Kit
You will love the 800w kit from Neewer.
This kit is a great starting point for anyone jumping into the world of jewelry photography.
It has everything you need to light your setup and create amazing images.
This kit includes a pair of strobe flashes, stands, softboxes, wireless triggers and a handy carry case to pack it all into.
The 400S strobe light is a high energy flash. It's bright enough for most applications and it recycles its charge super fast between flashes. It has a recycle time between 0.3 to 1.5 seconds.
You can mount them to the included stands or they can be used as hand held lighting if needed.
You can adjust the flash duration and trigger the flash wirelessly using the included triggers and receivers. These work over a 30m distance.
The Neewer 800W kit also includes softboxes, which are always a welcome addition. They allow you to soften and diffuse light. This is useful when shooting shiny items like jewelry.
The diffused light will spread further but it will also be softer and less glaring off shiny surfaces.
Key Features of the Neewer 800w Kit
Includes everything you need for a great lighting setup.
Octagonal softboxes will soften and diffuse the light
The flash can be operated wirelessly up to 30m using the included triggers
Internal cooling fans to prevent the lights overheating during long periods of use
Recharges between flashes with a maximum recycle time of 1.5 seconds.
Best Lighting Kit and Backdrop Bundle for Jewelry Photography: ALZO 100 LED Table Top Platform Light Kit
Ever felt frustrated trying to edit out unwanted shadows from your images?
Here's some great news.
Those days are over.
Alzo have created the best lighting and backdrop bundle out there for all the jewelry photographers which also helps remove shadows.
It works by adding a clear platform to the backdrop.
You have your seamless back and floor white backdrop with this clear platform hovering over it.
The clear platform will not show up but it allows light to get underneath your item, virtually removing the shadows from the picture.
This saves you time editing.
The platform is 24×24 inches so its big enough for most close up uses.
If you already have a photo tent, you can even place the platform inside and pair it with gear you already own to supercharge your setup.
The included LED lamps give you 5500K daylight temperature lighting for natural looking images.
If you want to change the background color, that's cool too.
Alzo100 LED table top platform kit have even included a pair of white backdrops along with a grey and a black one. You can also pair this with whatever other color backdrop paper you want from your favorite supplier.
Key Features of the Alzo 100 LED Table Top Platform Light Kit
24 inch squared, clear platform surface
Platform can be used with the included backdrops or in your favorite light tents
Clear, raised platform virtually eliminates shadows, saving you time in the editing stage
Includes a pair of LED lamps each containing 100 LED bulbs
LED lamps deliver a consistent 5500K daylight temperature
Faq
What is the Best Color Temperature Light for Jewelry Photography?
When shooting anything, lighting and color temperature can make or break the image.
If you want your jewelry photos to really stand out, you should be aiming for a color temperature of 5000K to 6500K.
This range is considered to be a natural daylight temperature. Using a daylight temperature will prevent coloration on the object or the background and is the perfect temperature range for natural looking photographs.
Conclusion
That just about wraps up your journey through the world of lighting for jewelry photography.
By now, this article should have answered your questions and you should be feeling confident and ready to create something special.
Lighting research is done.
Camera is ready to go.
Now it's your turn.
Get out there, create amazing images and have fun with your new light knowledge.