What if you could always make your newborn photography look awesome? Wouldn't that be cool? Of course it would. That's why you're here. You came here to find out about the best lighting for newborn photography.
Just imagine, you never have to second guess your lighting again.
After all, it's your job to make your subject look great. Lighting plays a huge part in that.
So if this sounds like you, and you're ready to step up your lighting game, let's jump right in.
What lighting is best for newborn photography?
In This Article
Best Lighting for Newborn Photography
Best Lighting for Newborn Photography
Best Studio Light for newborn photography: Godox SL-200W ($389)
Godox SL-200W
This studio light has enough options to satisfy even the most feature hungry photographers. With 200w of LED brightness at your disposal, you won't have any trouble capturing the perfect light.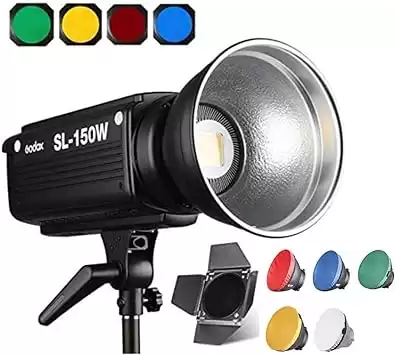 The best studio light for newborn photography is the Godox SL-200w.
Forget old school bulbs. LED is the future. This light has a bunch of them, packed tightly together to give you some seriously bright lighting. It really is BRIGHT.
The SL-200W delivers 5500K style daylight with a CRI of over 95+. This means your lighting will look natural and your colors preserved in all their glory.
This unit also works wirelessly with the included remote control. This allows you to adjust light brightness in real time as you work. The large LCD panel on the rear of the unit shows the settings and temperature of the unit.
LED lights are great at temperature regulation, but even so, this unit has excellent heat dissipation. It has a built in temperature control function and a built in fan to prevent the unit overheating at that crucial moment in the shoot.
But that's not all…
Included with this, you also get a reflector, 4 color gels, a barn door for directional lighting, a diffuser and more.
For a light that delivers so much, it must cost a lot right? Wrong. This light is still very affordable and it performs to a level beyond its price point.
What's the catch?
No catch. Just an amazing light that will help you capture some amazing images.
Key Features of the Godox SL-200W
20000 Lumens
200W LED strobe Light
Wirelessly adjust brightness
High CRI for accurate color reproduction
Color Temperature: 5600K ± 200K (Daylight Balanced)
Includes 4 color gels, reflectors, barn door, diffuser and more.
Runner Up: Elinchrom Compact D-Lite RX One
Elinchrom Compact D-Lite RX One
This small and mighty light from Elinchrom packs a punch and it's the runner up in the category of best studio light. Simple and to the point. It's a great choice for anyone looking for a simple and efficient lighting solution.
The D-Lite RX One is a light for people who need a light to do it's job. Simple, robust and ready to go. This no frills light does exactly what it says on the tin.
It delivers 5500K daylight at full power and while it's simple, it still manages to cram in a few key features that make it a force to be reckoned with.
This studio flash is bright. It puts out 100w of power and even if you're new to photography, this is a serious upgrade over your built in camera flash.
It mounts to a stand and the head can be tiled so you can direct the stream of light exactly where you need it. It mounts to most stands with its standard ⅝" size socket.
If you like to shoot fast, this has you covered.
This recycles between 0.5-2.1 seconds and flash durations can be brought down to the super speedy 1/1100th of a second at full power.
The built in EL Skyport Receiver works with 8 frequency channels that can handle 4 different groups of flashes. You can even expand the unit with an optional WiFi module that allows you to control it from your iOS device.
Pretty cool right?
Key Features of the D-Lite RX One
Tungsten 100 W Flash
5500K Daylight bulb
5 Stops in 1/10-Stop Increments
Recycle Time: 0.5 to 2.1 Sec
Expandable via additional modules for iOS control
Best Bang for the Buck Light: Godox SL60W
Godox SL60W
A 5600K daylight bulb with an LCD panel, temperature control, wireless control and a high CRI for less than $150. Yeah, you read that right. This is some serious bang for your buck.
A 5600K daylight bulb with an LCD panel, temperature control, wireless control and a high CRI for less than $150. Yeah, you read that right. This is some serious bang for your buck."]

Look:

Great lights don't have to cost a fortune. The SL60W from Godox is proof of that. This is some serious bang for your buck.

This light costs less than $150. Yeah, you read that correctly… LESS than $150.

What do you get for your money I hear you ask? Let's find out…

It's worth mentioning the 5600K daylight bulb. This will look great for newborn photography. Coupled with the CRI rating of 95, it will retain natural skin tones and colors in your images.

One feature that makes this affordable unit stand out from the crowd is the wireless control. You can use the included remote to control the brightness without having to go back to the light to make changes.

The large LCD screen on the rear shows you the settings and also allows you to view the unit temperature in celsius or fahrenheit.

This unit is very efficient, and it also regulates its own temperature well. The unit has built in features to prevent any unwanted overheating, even when in extended periods of use.

Sadly, the unit does not come with any additional accessories. It does however have a Bowens Mount on the front of the unit which means any accessories you may have, or plan to buy, can simply be added.

This is great if you have a few different diffusers or softboxes that you want to pair with this light.
Key Features of the VL49
60W LED strobe light
Color Temperature 5600k
CRI≥94 for high color reproduction
LCD display panel to display settings
Bowens Mount for accessories
Wireless Adjustable Brightness from 10% – 100%
Best Cheap Newborn Photography Light: Mountdog Softbox Lighting Kit
MOUNTDOG Softbox Lighting Kit
How about three, yes THREE, 95w bulbs, stands and softboxes. This is a great, affordable way to easily and quickly light your studio.
Sometimes price can be the thing that makes you decide on the purchase. In this case, this is the best cheap newborn photography lighting kit you can buy. You'll be hard pressed to top this value.
In this inexpensive kit you get three 95w bulbs, three soft boxes and three stands, one of which is on an adjustable arm.
This is super value. If you need to get set up and fast, you'll love this.
Each of the 95w bulbs are efficient, energy saving bulbs, but they're still very bright! Paired with the included soft boxes you get wonderfully diffused light.
The softboxes have a 210 degree rotation head to allow to you get the perfect lighting direction on your subject.
The stands are made from an aluminium alloy which is lightweight and when you're done it all packs down into a nice, neat carry bag for easy transport.
Let's talk about the boom stand. This is a great addition to an already awesome kit.
The boom arm allows you to really nail the position of one of your lights. You can set the two static stands up as stationary lights and use the boom stand to really fine tune the third light.
For example,
If you're shooting a newborn, use your two static lights to set the overall ambience levels and use the boom stand to really dial in the highlights in the photo.
Key Features of the Mountdog Softbox Lighting Kit
3 x 95W energy saving bulbs
Comes with 2 static stands that extend up to 80inch
Everything packs down into a near carrying bag
Softbox lighting angle can be 210°adjusted
Aluminum alloy 54″ Long Boom Arm, Holder Arm Grip and Sand Bag
Best Softbox for Newborn photography: Neewer Umbrellas Softbox Continuous Lighting Kit
Starting out is tough. Sometimes you just don't know what you need to buy. Even when you do, the prices of certain things can make it almost seem unattainable.
Sound familiar?
Don't worry, you don't have to spend all your savings to get great lighting in your photography studio. Check out this kit from Neewer. This is the best softbox kit around, especially in this price range.
A continuous lighting kit, as the name suggests, is a set of lights that are continuously on. This means your subject is always lit, as opposed to temporarily lit with a flash.
In this kit you get a set of 4 of 800w, 5500K daylight bulbs on stands. You can control these lights with the included pair of umbrella diffusers or soft boxes.
Umbrellas diffuse and soften the light giving a nice broad spread. The softboxes provide evenly diffused light. Combining these two means you can light your subjects exactly as you wish.
Sounds great so far right?
You also get three backdrops. A black one, a white one and a green screen style one. Not only will you be capturing great images with this kit, but you can make your edits look killer too!
But, wait. There's more..
The backdrops need somewhere to be mounted to. You also get a backdrop support frame and a bunch of clamps to hang your backdrop.
Key Features of the Neewer Umbrellas Softbox Continuous Lighting Kit
Includes 4 x 800w/5500K bulbs
4x Adjustable 7ft light stands
2 x 33″/84cm Umbrella Diffusers
2 x 24″x24″/60x60cm Softbox
1 x 1.8 x 2.8M/6 x 9 ft Musline Backdrop (Comes in Black,White and Green)
6 x Backdrop Clamps
1 x 2.6M x 3M Background Stand Support System
Best continuous light for newborn photography: Godox SL-200W
Godox SL-200W
If you need a continuous and reliable light source, the SL-200W with its 5500K temperature and 20000 lumens of power will serve you well.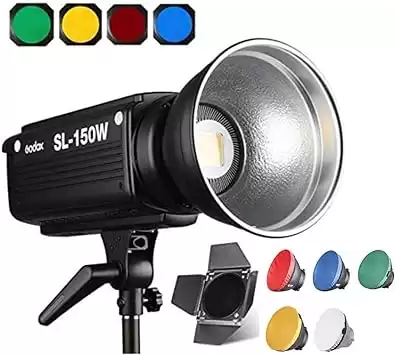 So you want a light that's always on?
Good news:
The Godox SL-200W is the best continuous light in this article and it will certainly tick all your boxes.
The advantages of a continuous light is, as the name suggests, the light is continuous. Not only does this make it easier to light the scene consistently, but it also means you don't disturb the subject with a flash.
This is especially true photographing newborn babies.
Picture this:
You've got the baby in shot, peacefully sleeping. Do you really want to steamroller through with a bright flash and risk the next part of the shoot?
Probably not!
This is where a continuous light will really help you out. You can set the scene, get your lighting perfect and shoot to your hearts content.
The SL-200W delivers daylight temperature lighting with a very high color rendering index so you can really trust that what you capture is as true as what you see.
If you are ever inclined to make adjustments on the fly, this light is wirelessly controlled with the included remote. You can adjust the brightness as you go.
You also have the option of using the included barn door cover to change the shape and intensity of the lighting on your subject.
Key Features of the SL-200W
20000 Lumens of Brightness
200W LED strobe Light
Color Temperature: 5600K ± 200K (Daylight Balanced)
High Color Rendering Index – 93
Bright Adjustment from 10% – 100% with wireless remote
Best flash for Newborn Photography: Elinchrom Compact ELC Pro HD 500
Elinchrom Compact ELC Pro HD 500
The ELC Pro HD 500 is a professional level, standalone flash. They are very high performing units and has a very fast recharge rate for all the speedy snappers out there!
Sometimes, you just want a flash.
Sometimes, a flash is the tool for the job. Continuous lights are great but certain jobs need something a bit more… well… flashy.
All photographers should have a good flash in their arsenal of lights.
The ELC Pro HD 500 is a 500w flash that is ready for the most demanding photoshoot.
The recharge rate is an astonishing 0.7 seconds. Even if you're shooting a lot of photos in quick success, you won't have to waiting around long for the next shot to be ready.
The rear of the light has an OLED screen that displays your settings and flash mode.
Need more?
Well, let's talk about the connectivity of this light. You can actually synchronize up to 20 of these together, wirelessly so that you can run a large scale sequence of flashes for any intense shots. Not that you'd be needing that for newborn shoots.
But, you never know…
You can configure the internal software of the light to suit your own needs. It's very tweakable and should fit into most workflows with relative ease.
If you like your flash to be delayed, you can set a delay. You have a range of 0.1 seconds right up to a 10 second delay. All the features maintain a normal and neutral color balance to the final images.
Key Features of the ELC Pro HD 500
Tungsten 500W light
Color Temperature: 5500K
Power Control: 7 Stops in 1/10-Stop Increments
Flash Duration: 5: 1/2940 to 1/2330 Sec
Recycle Time 0.0 Seconds
Sync Type: Infrared, Optical, Radio
Best newborn photography lighting kit: Neewer Umbrellas Softbox Continuous Lighting Kit
Does this look familiar to you?
If so, it should. We've already featured this in our list as the Best Softbox category. It's also top for the Best Newborn photography lighting kit.
Let me explain why.
The softboxes and umbrellas for the price make this worth the earlier feature. Now we're talking about a full kit.
So to recap in case you missed it. For less than $200 you get 4 lights, 4 stands, 2 umbrellas and 2 soft boxes.
But there's more…
You also get a backdrop support stand frame with a selection of three musline backdrops. The black one is perfect for high contract shots, the white for those soft family portraits and the green screen for when you want to get creative with editing.
The combination of softboxes and umbrellas allows you to really perfect the lighting. Umbrellas give you a broad scope of light and soft boxes give even spread. With 4 separate lights you can really light your subject from all angles.
What about the bulbs?
The bulbs, all 4 of them, give really natural 5500K daylight style light. Fluorescent lighting can sometimes appear harsh, but with the diffusers and softboxes you will be able to tame that light and create awesome looking photos.
Key Features of the Neewer Umbrellas Softbox Continuous Lighting Kit
4 x 7 Feet Light Stands
4 45W 5500K Daylight Bulbs
2 33" Umbrellas
2 x 24″x24″ Softboxes
3 x 1.8 x 2.8M Musline Backdrop (Black,White and Green)
Includes a carry case for easily transporting the whole kit
Best Diffuser for Newborn Photography: Elinchrom Rotalux Deep Octabox
Elinchrom Rotalux Deep Octabox
Sometimes a good diffuser will make the biggest difference to an existing lighting setup. The Rotalux is a studio quality soft box that will turn a cheap lighting setup into something that delivers pro results.
Have you already got a set of lights that isn't quite doing what you want them to do?
Maybe the answer lies in a diffuser. Check out the Rotalux Deep Octabox. This is the best diffuser that you can add to your newborn photography lighting equipment.
The Rotalux Octabox will diffuse the light to give you an evenly spread light that is softer than the harsh bulb on its own.
This shape has been kept narrow at the design stage with the goal of spreading the light and giving you better, sharper shadows compared to standard boxes of a similar shape.
This creates great separation for your subject and the background.
The diffuser screen at the front will spread the light evenly across the room and remove any harsh glare that would occur if it was not there.
If your existing lights need a tune up, adding a great diffuser will make a huge difference.
The Octabox is even great for those on the go shoots you may be working on. The speed rings allow for fast and efficient setup with no fuss. You simply pop it up, attach it to your light and get ready to shoot.
Sounds great doesn't it?
You can expand the unit further with hooded diffusers or grids if you wish to get even further control of your lighting.
The 39" deep light is great for portrait style photos and works particularly well when used up close. When close lit, it creates a light quality that looks like it wraps around the subject.
When you're done, it folds away just as easy as it goes up.
Simple.
Key Features of the Rotalux Deep Octabox
39" deep Octagon shape
Provides wrap around lighting at close range
Removable Front face and interior baffle
Perfect for close up or portrait style photography
Fast and simple to set up and pack down
Best Budget Diffuser: Fotodiox Pro 16-Rib
Fotodiox Pro 16-Rib
For less than $100 you can still get beautifully diffused lighting in your newborn photos. The Pro 16-Rib from Fotodiox gets you pro results on a hobby budget.
Diffusers can make the BIGGEST different.
You know this right? It's not rocket science.
Let's imagine you're either a hobby photographer, or you're just getting your first rig together for some paid work. You may not have a huge budget but you need the best budget diffuser for newborn photography..
Enter the Fotodiox Pro 16-Rib.
This is a parabolic shaped umbrella style diffuser that will give you soft and even lighting that looks professional.
The heavy duty fiberglass framework is rugged but lightweight. It is at home in the studio or on the move.
The fabric used is heat resistant so even on those long days of shooting, you don't have to worry about it being a potential fire hazard! You can certainly rely on this to be safe.
The fabric diffusion cover is removable so you can use this unit both with or without it. The diffusion cover will soften the lighten even further and give you a very even look.
This diffuser is under $100 and can easily be set up with any existing lighting rig. It's the perfect upgrade to your first lighting kit.
As you start to get more serious about newborn photography, a good diffuser will help your photos really stand out.
Key Features of the Pro 16-Rib
72″ Parabolic Shaped Umbrella
Comes with a 24 month warranty
Robust fiberglass framework
Great for studio and outdoor use
Included fabric diffusion cover for soft lighting
Best reflector for newborn photography: Neewer 43 Inch/110 Centimeter Light Reflector 5-in-1
If you've ever struggled with too much light on a subject you could be in the market for a reflector.
For less than $20 it's hard to argue that the 5-in-1 reflector from Neewer isn't the best reflector around.
You get 5 different types of reflective material. Translucent, silver, gold, white and black.
Each has their own purpose and can fix a multitude of lighting issues in the studio or outdoors.
The translucent one is perfect for using as a diffuser, especially when shooting outside in natural sunlight.
Silver is ideal for brightening shadows and bringing out highlights and bouncing the light to hard to reach areas.
Gold will work the same way but slightly warm the subject up.
White will also brighten up the shadows in the image but produces a softer light than the silver. This is great for getting up close to the subject.
If you ever want to take the light away, use the Black reflector. This will actually increase shadows and remove light from specific areas.
Using these reflectors can really allow you to gain extra control over your images and make them look AWESOME.
Key Features of the Light Reflector 5-in-1
Size open: 43 inches (110 cm)
Size collapsed: 15 inches (35 cm) round
5 in 1 Panel

Translucent Panel – For diffusing
Silver Cover – For highlights and brightness
Gold Cover – For warmth
White Cover – For highlights and soft light
Black Cover – For shadows
Conclusion
So what does all this mean?
Well, you've learnt that lighting can make a HUGE difference to your newborn photography. Lighting is the difference between your images looking great or poor.
In this article you've looked at lights, lighting kits, softboxes, diffusers and more.
But what now?
Well now it's your turn. Go forth with your new knowledge and create something wonderful.
Here's to many amazing looking images!