Here's the thing about tattoos:
They're supposed to look awesome. I mean, that's kind of the whole point, right?
Well, if you're a tattoo artist and you're taking crap photos of your work to post on Instagram or other platforms, you might not attract much in the way of new clientele.
Or, if you're a photographer wanting to get into the tattoo world, you're not going to get anywhere if you can't show your clients off in a way that makes their artwork look amazing.
Either way, you don't just want to take good photos, you want to take incredible photos.
Having the best lighting for tattoo photography is one of the most important steps in achieving that goal.
Before we get to the list of options for best lighting for tattoo photography…
Here's an important tip:
Use A Polarizing Filter To Reduce Glare
A quick tip for all of you tattoo photographers:
You probably already know this, but glare is an absolute killer when it comes to getting great tattoo photos.
That's because the light you use to make everything look great can often reflect off of the skin. This ends up making your photos worse than before!
That's why you should use a linear polarization sheet.
These handy little sheets attach to your photography lighting kit, changing the way light flows from the source to interact with the skin and tattoos you're capturing.
There's a double benefit for tattoo artists and photographers too:
These polarizing filter sheets reduce glare. They also help to enhance the color and vibrance in tattoos, which is something you 100% want for tattoo photography.
Linear polarization sheets come in a number of different sizes. The best size depends on how big your light is!
Choosing a linear polarization sheet to reduce shadows and take really good tattoo photos is a two-step process:
Step 1:
Choose your light!
Step 2:
Choose the correctly sized sheet for your light!
(The best polarization sheets for each light listed are at the end of this post.)
Let's get started.
What's the best lighting for tattoo photography?
Best Lighting for Tattoo Photography
Now that you have the list, let's look at each one in detail.
Best Tattoo Photography Light: GVM LED 832
GVM LED 832
With a built-in soft light diffuser and variable color temperature and brightness controls adjusted via an app on your phone, you can get any better than the GVM LED 832 for tattoo photography.
The GVM LED 832 is the best tattoo photography light because it has a built-in soft light diffuser and a variable color temperature feature.
Why are these two features important?
Let's start with the soft light diffuser.
Light diffusers are commonly used by professional photographers to spread the light source and make it appear softer (and therefore less harsh). Diffused light is not only less harsh than direct or natural light, but it produces less defined shadows on the skin. It can even help you capture details you wouldn't be able to see under harsher lighting.
Clearly then, this is important for tattoo photography since you want to capture every detail in your clients' work.
Usually, you need to buy an external light diffuser, which is typically those umbrella-shaped things you've seen on photoshoot sets.
Unlike those, the GVM LED 832 has one built directly into the frame. So you don't have to worry about assembling and positioning it!
The second feature that makes this the best tattoo photography light is the adjustable color temperature, which ranges from 3200K to 5600K.
Being able to adjust the temperature of the light (make it appear warmer or cooler) is a brilliant way to highlight specific colors in tattoo photos. This makes it easy to get a really good image.
What's more, you can control the temperature (as well as the light's brightness) from the GVM LED 832's mobile app. You don't even have to step out from behind the camera!
Key Features of the GVM LED 832:
832 LED lights
Rotatable – 360 degrees
Built-in soft light diffuser
Controllable via a dedicated app
Aluminum Alloy Shell & U-shaped Frame
Adjustable brightness and color temperature
Dual power supply: AC power adaptor or F750/ F970 Sony batteries (battery sold separately)
Best Bang for Your Buck Light: Neewer 480
Neewer 480
With adjustable light temperature and a solid build quality, the Neewer 480 is not only a great entry-level light, it a brilliant all-around choice for any photographer.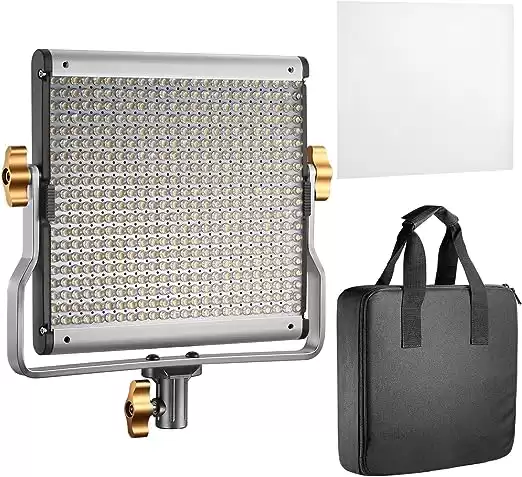 The Neewer 480 is the best bang for your buck light because, despite coming in under $100 (by quite a bit actually), it does everything the big guns do.
Here's what's awesome about the Neewer 480:
For starters, it comes with a light diffusion sheet that you can slide in and out of the frame with ease. Although you'll probably want to leave it in most of the time.
Secondly, this thing is built like a tank.
It's made entirely out of metal, apart from the control and battery housing on the rear. It has a sturdy U-frame attached that allows you to mount the 480 on a lighting stand. Or you can set it up directly on the ground or on a desk.
On the rear panel, you've got a DC power input, and two slots for Sony NPF batteries… pretty much the standard battery in the photography and film industries.
Next to the two battery slots are two rotary controllers that allow you to dial in just how much white or yellow (tungsten) light you want. So you can purposefully alter the lighting temperature to take the ultimate tattoo photo.
It works like this:
The Neewer 480 has 480 LED lights, 240 white and 240 yellow, and the two controllers dial the amount of brightness in each row.
Key Features of the Neewer 480:
360 degrees rotatable
Built-in U-shaped mount
Removable soft light diffuser
480 LEDs – 240 white & 240 yellow
Use with power adaptor or Sony batteries
Best Cheap Tattoo Photography Light: ESDDI LED Video Light
ESDDI LED Video Light
Just like a camera, a decent tattoo photography lighting kit generally comes with a scary price tag. The ESDDI LED Video Light turns that whole idea on its head.
The ESDDI LED Video Light is the best cheap tattoo photography light because it's not just a video light, it's an entire lighting kit!
The ESDDI kit comes with 5 different color filters: red, green, blue, 5600K, and 3200K, which are epic for creating cool effects. You can use them to get an interesting and artistic tattoo photo that really pops.
The ESDDI LED Video Light can be used with a DC power adaptor (not included), or it can run on a battery pack. Unlike most professional lighting kits, it's actually included!
That's a great way to keep costs down if you're looking for a cheap tattoo photography light. You don't have to go out and buy a separate battery. The kit comes with a battery charger as well.
This lighting kit is perfect for those of you planning to use a DSLR camera because you also get a cold shoe adaptor to mount on the top of your camera.
Don't worry though, it's removable. So you can also use this lighting kit with a tripod or lighting stand.
Key Features of the ESDDI LED Video Light:
176 LED pieces
Adjustable brightness
Good for DSLR camera users
A variety of mounting options
Comes with a battery and battery charger
5 color filters: Red, Green, Blue, 3200K and 5600K
Best Ring Light for Tattoos: IVISII Ring Light
IVISII Ring Light
There are some settings where a ring light is a better option, and when you need the best ring light for tattoos, the IVISII is your go-to choice.
The best ring light for tattoos is the IVISII Ring Light because it has a very wide color temperature range and a wireless remote control!
Tattoo artists and tattoo photographers often opt for a ring light (as opposed to a panel light) because they're excellent for diffusing light and lessening shadows on the subject.
For this reason, you might see pro-level photographers take one of each on set, especially because ring lights are often small and attach to your camera lens.
The IVISII Ring Light isn't one of those lens-mounting lights. It's quite large – 19 inches to be exact. But that means pretty much any camera with any lens will fit inside!
The color temperature range is super wide, from 3000K (very warm) to 5800K (very white), and doesn't use color filters. This feature is controllable via a wireless remote control, which is super convenient.
Plus, you can dial the brightness right down to 1%. You would probably never do that, but the flexibility ensures you can get a really good, clear shot with these precise adjustments.
Planning to use your phone camera?
Then the IVISII Ring Light might be a good choice for you – it has a phone holder built into the center of it!
For a number of reasons, such as the ability to manipulate shutter speed and other settings, you're probably better off using a DSLR camera and an appropriate lens for tattoo photography.
And the great feature about the IVISII Ring Light?
It comes with a cold shoe adaptor so you can attach your DSLR camera too, with 360-degree rotation.
It just keeps on getting better…
Key Features of the IVISII Ring Light:
240 LED Bulbs
19″ LED ring light
Adjustable brightness – 1% to 100%
3000K-5800K adjustable color temperature
You can mount your phone or camera and lens in the center of the ring light
Comes with a wireless remote control for changing light settings
Best Budget Ring Light for Tattoos: Neewer Ring Light Kit: 18″
The Neewer Ring Light Kit: 18″ is the best budget ring light for tattoos because it comes in nicely under $100. It comes with two color filter sets, a phone and camera mounting attachment, power adaptor, lighting stand, and carry bag!
You don't need a mega-zoom lens to see that this is a banger of a deal.
I mean, it's not that often that lighting kits come with a stand, but this one does, helping to keep costs super low for you.
Whether you're an iPhone photographer or a DSLR enthusiast, the Neewer Ring Light Kit: 18″ allows you to mount your device on the light itself. This way you can make sure the light is coming from the same direction as the camera. This also makes it easy to access and change camera settings.
What's even better is the kit comes with two light filters (white and orange). This allows you to use two different color temperatures and really highlight the intricacies and detail in tattoos.
Key Features of the Neewer Ring Light Kit: 18″:
5500K Temperature
240 LED bulbs
White and orange color filters
Rotatable camera or phone mount
Comes with universal power adaptor
Included lighting stand and carry bag
Best Tattoo Photography Light Kit: Neewer 2 Pieces Bi-Color 660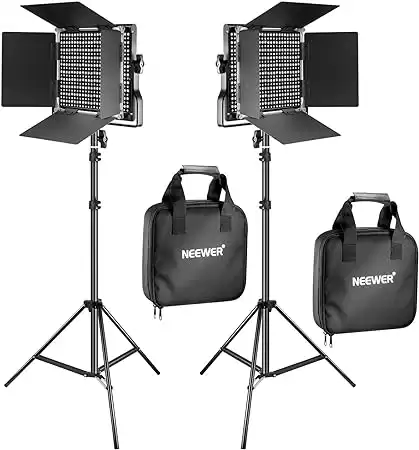 The Neewer 2 Pieces Bi-Color 660 is the best tattoo photography light kit because you can adjust the color temperature of the lights. AND they come with barn doors so you can perfectly aim the light on your subject.
When it comes to capturing epic tattoo photos, especially larger-scale ones like back or thigh pieces, you might find yourself needing a dual-light setup.
The Neewer 2 Pieces Bi-Color 660 kit is the ultimate photography light kit for that scenario.
It comes with two Bi-Color panel lights with 660 LEDs in each (330 white, 330 yellow), barn doors for each light, two lighting stands, and carry bags for each of the lights.
I mean, what else could you need?
The build quality on this kit is excellent, the stands are sturdy, the light panels feel very well made, and the barn doors do a stellar job of directing that light exactly where you want it.
The lights can be used with the included power adaptor. Or you can use Sony NPF batteries instead.
What we love most about this lighting kit is every component is designed to work perfectly together.
We've all been there, you buy a bunch of equipment and then you find out the stand doesn't quite work with the light mount, or the lights don't fit in the bag with the barn doors. It's a big fat pain.
With the Neewer 2 Pieces Bi-Color 660 photography light kit, you don't need to worry about this for a second.
Key Features of the Neewer 2 Pieces Bi-Color 660 :
2x lighting stands
Carry bags for each light
Barn doors for directing light
Can run on batteries or use the included power adaptors
2x lights with 660 LED pieces each (330 white, 330 yellow)
Best Cheap Tattoo Photography Light Kit: Mountdog Softbox Lighting Kit
MOUNTDOG Softbox Lighting Kit
When it comes to shooting big pieces and full-body tattoos, you need a serious lighting kit with more than just one light. If you trying to keep costs low, the Mountdog Softbox Lighting Kit is the one.
The Mountdog Softbox Lighting Kit is the best cheap tattoo photography light kit because it's fantastic at creating a soft lighting effect. It also comes in at a fraction of the price of typical softbox lighting kits.
Most photography lighting kits use ring lights or LED panels. But the Mountdog Softbox Lighting Kit uses three 95w E27 bulbs for low power consumption and a soft light appearance.
This kit is fantastic for taking pictures of full-body tattoo art, as you have three lights, three stands, and three soft light diffusers. So you can position them as needed and make sure you get the lighting and focus just right.
The kit also comes with sandbags to attach to the end of each boom arm. This means you can tilt the angle of the softbox up to 210 degrees!
What's great about this Mountdog Softbox lighting kit compared to your standard LED kit is that when the bulbs die (which they inevitably will do), they can be easily replaced.
Key Features of the Mountdog Softbox Lighting Kit:
3 x 95W CFL bulbs with standard E27 socket
Carrying bag and sandbag weights included
Comes with three boom arm lighting stands
Excellent for creating a diffused soft light effect
The best lighting kit on the market for full-body tattoo photography on a budget
Best Polarization Sheets for Tattoo Photography
The light kit plus the polarization sheet is a magic combo to diffuse light and make that tattooed skin look awesome.
Here are the best polarization sheets for these top tattoo photography lights and kits.
Best sheet for GVM LED 832 – A2 Linear Polarization Sheet
Best sheet for Neewer 480 – A3 Linear Polarization Sheet
Best sheet for ESDDI LED Video Light – A5 Linear Polarization Sheet
Best sheet for Neewer 2 Pieces Bi-color 660 light kit – A4 Linear Polarization Sheet
With a little bit of creativity the A2 Linear Polarization Sheet is the polarization sheet for ring lights.
Mountdog Softbox Lighting Kit needs an entire roll! Here's the best one – Rosco Polarizing Filter Roll
Conclusion
So, are you ready to get some epic tattoo shots?
If you're serious about tattoo photography, whether you're a tattooist or a photographer, you need a decent lighting kit.
Just make sure you get a polarizing filter as well so you can get the ultimate shot and make your Instagram feed look slick as a seal.