Whether you need to shoot product photos, take food portraits, or just get some interesting angles, here are the top tripods for overhead photography.
Let's dive in.
The 9 Best Overhead Tripods
Best Overhead Tripod: Manfrotto 055
Manfrotto 055
A high-end tripod that's versatile, the Manfrotto 055 is made of carbon fiber legs for hard-to-match stability and strength.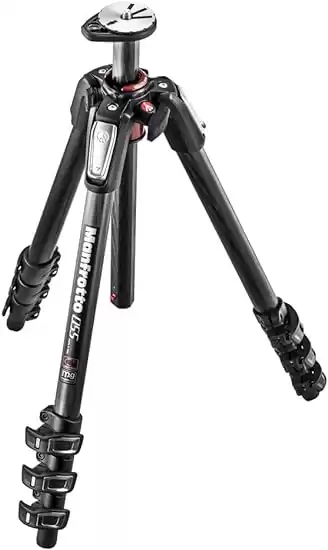 You've got cash to burn on a tripod, but you also don't want to waste money and end up being disappointed.
The Manfrotto 055 is the best overhead tripod because of its high load capacity, up to 19.8 pounds, and—Quick Power Lock—leg locking system that ensures everything stays where it should be.
If you hate adding extra weight to keep your tripod in place, then this may be the best option for you.
This overhead tripod's four legs are made of carbon fiber, which is an alternative material to steel. The aircraft and racecar sectors are just some of the industries that use carbon fiber.
It's that strong.
You might be thinking that the tripod itself is heavy. After all, it contains a material that replaces steel in some industries.
On the contrary, carbon fiber is a lightweight material that carrying this tripod won't be an issue for most people. The only real downside is the price, but for many, it's worth it to take care of expensive equipment.
The Manfrotto 055 is the right choice for those who want a reliable overhead tripod for outdoor or studio photography.
Key Features of the Manfrotto 055:
Tripod legs made of carbon fiber
High payload capacity (19.8 pounds)
Multifunctionality (e.g. outdoor, studio shoots)
Best Budget Tripod for Overhead Shots: Vanguard Alta Pro 263AP
Vanguard Alta Pro 263AP
The Vanguard Alta Pro 263AP features a three-way panhead that adjusts to 25, 50, and 80 degrees for low-angle photos.
The Vanguard Alta Pro 263AP is the best budget tripod for overhead shots because of its aluminum build, a three-way panhead, and Instant Swivel Stop-n-Lock System (ISSL).
The ISSL is a distinct feature that allows you to adjust the tripod's central column quickly and safely—in just one simple stroke without affecting stability.
It may not be as durable as its cable-fiber counterparts, but it still does the job without costing a fortune.
For the Vanguard tripod, you'll spend less than $200.
One thing to remember: this overhead tripod's aluminum alloy construction makes it quite heavy to carry around.
It weighs 5.7 pounds, so you should buy a different tripod if you move a lot in between shoots and need something a little lighter. Otherwise, the 263AP variant's features make up for its relative heaviness.
The extended panhandle and three adjustable legs allow you to take photos at 25-, 50-, and 80-degree angles.
What's more, you can adjust the central column between 0 and 180 degrees for those extremely low-angle shots.
The Vanguard Alta Pro 263AP works well with Canon, Nikon, and Sony DSLRs.
Key Features of the Vanguard Alta Pro 263AP:
Made of aluminum alloy
Adjustable three-way panhead
Instant Swivel Stop-n-Lock System
Best Cheap Overhead Tripod: Neewer Camera Tripod
Neewer Camera Tripod
The Neewer Camera Tripod has four adjustable legs for shooting on uneven surfaces, a flexible center column, and a carry bag—all for less than $120.
A limited budget forces most of us to look for the lowest-priced item for just about anything.
That doesn't mean you should compromise quality to get an affordable tripod.
The Neewer Camera Tripod is the best cheap tripod for overhead shots because of forward-thinking features like a rotating ball head and flexible central column.
Despite costing less than $120, these features let you take better low-angle, macro, and panoramic shots.
Made of magnesium-aluminum alloy, the tripod is heavier than a cable-fiber version.
Don't let this drawback turn you off. Instead, use its weight as an added support for your camera.
A lot of DSLR cameras are heavy, anyway, which means the Neewer tripod can keep your precious camera safely intact.
Did we mention that you can use one of the legs as a monopod?
That's right. You can remove one of its four legs and even use it as a walking stick! The tripod's legs can hold up to 33 pounds.
Whether you're new to overhead photography or simply want a versatile tripod, the Neewer Camera Tripod is your best cheap option for overhead shots and more.
Key Features of the Neewer Camera Tripod:
Four adjustable legs that can support up to 33 pounds
360-degree rotating ball head for better panoramic photos
Flexible central column for low-angle, macro, panoramic shots
Best Overhead Tripod for Phone: Arkon HD8RV29 Pro Stand
Arkon HD8RV29 Pro Stand
A patented holder for all phones, the Arkon HD8RV29 Pro Stand supports even the largest mobile devices of Apple and Samsung.
Just because smartphones can be used for overhead photography doesn't mean that it becomes easier.
Sure, the weight of your phone compared to a DSLR makes it more manageable. A flimsy overhead tripod, though, can still produce unstable shots.
The Arkon HD8RV29 Pro Stand is the best overhead tripod for phone and tablet photography because it can hold any kind of mobile phone.
The expandable patented holder extends up to four inches in width. The average width of smartphones ranges from 2.5 to 3 inches, so even the largest of mobile devices will fit.
It also has three shafts that can expand by roughly 13 inches from the base.
This flexibility not only allows you to take shots from a 90-degree angle but also 45- and 0-degree angles.
Need to capture a bigger view from above? An extendable pole up to 29 inches in height also lets you do just that.
That's not all; this phone holder comes with a two-year limited warranty.
The Arkon HD8RV29 Pro Stand also works well with pico-style projectors, small, and medium-size cameras. It's a great choice for hobbyists who take photos or live stream videos of their crafts.
Key Features of the Arkon HD8RV29 Pro Stand:
Two-year limited warranty
Flexible shafts that extend up to 13 inches
Extendable patented holder supports all phones
Best Smartphone Overhead Tripod Kit: OverHead Pro
Manfrotto 055
For photographers who value build quality over anything else, the Manfrotto 055 is the best overhead tripod for DSLR because of its strength and versatility.
The Manfrotto tripod's rigidity offers stable support with a high load capacity of 19.8 pounds, plenty of room for DSLR cameras with room to spare for any sized lens.
While the Manfrotto 055 is not exactly feather-light at 4.62 pounds, it's still light enough to be super portable, easily packing into your photography backpack.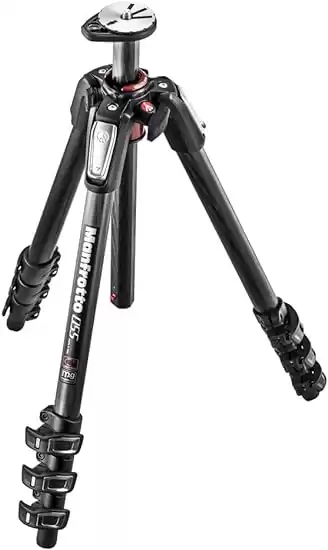 Best Tripod For Overhead Filming: PROAIM 12ft Jib Arm with Jib Stand
PROAIM 12ft Jib Arm with Jib Stand
The best tripod for overhead filming because of its strongversatility for indoor and outdoor shoots/strong. The 12-foot Jib arm allows you to record moving shots in a fluid motion over 360-degree arcs. Just one caveat: the arm and stand are made of aluminum. It can hold most DLSRs, but don't use an emoverly/em heavy one. For those high-angle shots that require utmost precision, the PROAIM 12-foot Jib Arm with Jib Stand remains a good choice whether you are an amateur or experienced cinematographer.
Best Tripod Extension for Overhead Shots: Manfrotto 131DB
Conclusion
Overhead photography is already hard to do as it is, pick one (or two if you need some extra versatility) of the above reliable overhead tripods and get back to creating.