Do you sometimes struggle to get your subjects to hold a pose when you're trying to get that perfect shot?
I feel you.
It can be tricky to get the person you're shooting to hold their pose consistently.
Posing stools are a great addition to any setup to help ease this problem.
A good posing still will allow your photo subject to sit down and hold their pose for longer periods of time. This not only makes them much more comfortable, but it also makes them feel more natural which leads to killer images.
If you shoot beauty shots or portraits, here are the best posing stools and tables out there.
Let's dive right in!
Best Posing Stools
Best Posing Stool – Flashpoint Photography Posing Table and Stool Kit
This posing stool and table combo is a great package. It's the best posing still around, but the addition of a table makes it even more awesome.
The Flashpoint Photography Posing Table and Stool Kit is fully adjustable so you can always get the perfect shot every time.
The table also has a set of castors so you can easily wheel it in and out of shot when needed. When you get it in the perfect position, you can put on the wheel locks to ensure it doesn't go anywhere.
If you need adjustability, this kit has it by the boatload. The table adjusts from 28-48" high and the stool can be set between 20-30" so you won't have any trouble getting the perfect height for your shots.
Both the Flashpoint table and stool are finished in matte black which is perfect for reducing any unwanted reflections in your shots.
Key Features of the Flashpoint Photography Posing Table and Stool Kit
Adjustable stool between 20 to 30" in height
Table height can be adjusted between 28 and 48"
Perfect for any home or professional photo studio for capturing professional portraits.
Best Budget Posing Stool – Impact PS Posing Stool
Don't let the price put you off here. The Impact PS Posing Stool is the best budget posing stool you can get.
Finished in a black vinyl, the padded seat will offer lots of comfort while still looking minimalist and stylish.
The height of the Impact PS can be adjusted between 20 and 30" inches so even when you're shooting with a tall photo subject, comfort will not be an issue here. The height adjustment is controlled with a pneumatic lever for smooth height changing action.
The lever is thin so you can strategically position it to not be seen in shots too!
If you need a stool that can stand up to a heavy workload, you'll be pleased with the high impact nylon base. This is sturdy and robust, but being nylon also makes the stool lightweight for moving between shots.
The base measures 25" wide so it takes up as much real estate in your studio as a typical computer chair.
Key Features of the Impact PS Posing Stool
Stylish black vinyl padded seat will look great and minimalist in any images
Height adjustable to a maximum of 30"
High impact nylon base is both lightweight for movement and durable for strength.
Best Cheap Posing Stool – Trademark Home Folding Stool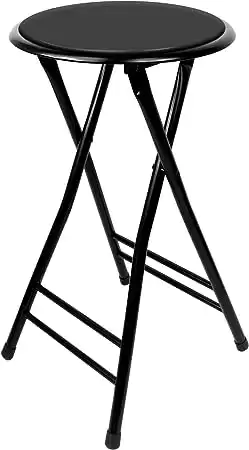 Sometimes you just need to get your hands on a piece of gear that might not be super flexible, but you know it'll do the job. This is where the Trademark Home Folding Stool comes in.
This is the best cheap posing stool. It's a rock solid workhorse that is compact and foldable. It stands at 24" inches and is a bar stool style. It folds flat when not in use which means you can easily store it away even in a tight space.
It can hold up to 300 pounds in weight so it is ready for whatever you might throw at it.
The frame is made from 1mm thick steel tubing which gives it added strength and reliability. It won't let you down.
Due to it's portable nature the Trademark Folding Stool is also great for moving around. If you need to travel light to a shoot on location, you can easily fold it flat and fit it into your car. It won't weigh you down and it won't be tricky to get places.
Key Features of the Trademark Folding Stool
1mm thick steel tube frame can hold up to 300lbs
Folds flat for easy storage when not in use.
It is lightweight and portable, perfect for putting in the car and travelling to shoots.
Best Premium Photography Posing Stool – Photogenic Pneumatic Posing Stool
Let's face it, no one wants to be sat on a hard, uncomfortable stool for a long shoot. As the photographer, you want your subject to be comfortable.
If they're happy, the images are happy. See where we're going here?
This Photogenic Pneumatic Posing Stool is the best photography posing stool for a few reasons.
Firstly, it's sturdy. You don't need to worry about it breaking down on you after a few weeks. The 4 leg design is stable and long lasting.
Secondly, it's adjustable. You can set the height with the pneumatic level on the side of the stool to achieve the perfect height.
Finally, the Photogenic Pneumatic Posing Stool is super comfortable. The cushioned seat allows for full 360 degree rotation and the vinyl coated cushion is filled with comfortable foam.
When you're done, it all folds down for easy transport.
Pretty cool huh?
Key Features of the Photogenic Pneumatic Posing Stool
Foam filled vinyl padded cushion for incredible comfort
Height adjustable with a pneumatic mechanism
Packs down flat for easy storage and transportation.
Best Posing Stool for Portraits – Flashpoint Photography Posing Table and Stool Kit
If you want the perfect pose for every shot, and you always want to be well equipped for whatever your sessions might throw at you, then you need to check this table and stool combo out.
The Flashpoint Photography Posing Table and Stool Kit is easily the best posing stool for portraits that you can get. The fact it's paired with this awesome table is a huge bonus.
Both pieces are adjustable which makes them very flexible. The stool can be adjusted from 20" to 30" in height and features a super comfortable padded seat top. It's fitted onto a pneumatically controlled height adjuster.
The table is adjustable up to 48" high so whatever items you decide to put in shot can always be set to the perfect height for your photo subject.
Finished in a non-reflective matte black paint, this Flashpoint Table and Stool Kit pairing functions as great as it looks.
Key Features of the Flashpoint Photography Posing Table and Stool Kit
Ideal for home or professional studios that specialise in portraits
Height adjustable stool and table for getting the perfectly framed shots
Non reflective black paint will look great in images and it won't add any unwanted reflections to your image.
Best Wooden Posing Stool Boraam Sonoma Saddle Stool
Wooden stools can also look great in images. Wooden stools can give your image a more informal or rustic feel, which can really bring out someone's personality.
This great looking Boraam Sonoma Saddle Stool is a wooden framed stool available in a bunch of great colors. It's the best wooden posing stool you'll find and it sits in a fantastic price point too.
The finish is stunning. It's a multistep wire-brush finish which is smooth to the touch but shows off the beautiful woodgrain.
It's very elegant looking and will look awesome im images. It's made from solid hardwood but it's very easy to assemble and comes with all the instructions you'd require to have it set up in no time.
While the stool is not height adjustable, it stands at a steady 29" tall, there is an added footrest for comfort. Whatever your subjects height, they'll enjoy posing on this Boraam Sonoma stool.
Key Features of the Boraam Sonoma Saddle Stool
Multi Step wire-brush finish shows off the woodgrain in whatever color you choose
Simply assembly, can be set up in minutes
Looks elegant in any space, even when not in photo use it won't look out of place.
Best Posing Table – Flashpoint Photography Posing Table
If you're shooting specific items, or you just need to place some items in frame to create a great shot, this Flashpoint Photography Posing Table is the best posing table around and it will give you the results you need.
The 18×27" table top should be big enough for most items you may wish to add to your images.
If that's not enough, you can adjust the height from 28" to 48" tall.
The Flashpoint table is mounted on a sturdy set of castors which makes getting it in and out of shots a breeze. You simply wheel it where you want it, apply the wheel locking brake and you're in business.
The whole table and supporting frame is finished in a stunning matte black which not only looks great, but it will prevent any unwanted reflections when used in images.
Key Features of the Flashpoint Photography Posing Table
Mounted on 5 sturdy castors for easy movement. When not in use, the castors lock into place.
Finished in a non-reflective matte black paint job to prevent any unwanted reflections in your images.
Height adjustable from 28" up to 48" to ensure you get the perfect framed shot.
Conclusion
Wow, we got through a lot of info there. Now you've read up on posing stools (And don't forget the tables!) you're gonna be feeling ready to step up your portrait game and make your subjects be able to get posing in complete comfort.
Posing stools are a great addition to your setup, it's a simple addition that can make a huge difference.
Now that you've checked all these great posing stools out, you should be feeling pretty inspired and ready to take your own studio setup to the next level.
So, what are you waiting for?
Lights, camera… Strike a pose!