A great reflector will get you one step closer to taking professional photos every time.
The purpose of a reflector is to, as the name suggests, reflect. They are used to fix shadows on a subject. If you're shooting a portrait or in a place that's casting a lot of shadow, use a reflector to correct those shadow issues.
You can also use them to add highlights to various parts of your subject or even to block out light.
They're versatile tools and you absolutely should have one or more in your photography kit.
Let's take a look at some of the best.
What is the Best Reflector for Photography?
Best Reflector for Photography: Lastolite Halo Compact Reflector
Just imagine being able to really nail those tricky shadows in your images. Well, it's a good thing you're reading this. The Lastolite Halo Compact has got you covered.
The Lastolite Halo Compact comes in at a price that is accessible to hobbyist and professional photographers alike.
The HaloCompact is so portable that you don't really have an excuse to not own one. It's very lightweight and takes seconds to set up.
The frame is collapsible so it makes it super efficient for transporting. If you like to travel light then this will serve you well.
For more permanent fixtures, the reflector also features a ¼" thread mount so it can be left in a static position in your studio.
The dual sided reflection surface also makes the Lastolite Halo Compact useful for different degrees of reflection. The white side for more subtle highlighting and the silver side for more extreme shadow correction.
Key Features of the HaloCompact
Easy to set up
Collapsible frame for easy transport
Ergonomic hand grip for one handed operation
Rigid frame eliminates flexing caused by wind
1/4″ thread mount for various mounting options
Runner Up White / Silver: Fotodiox 42in
Fotodiox 42in
This sturdy 2 in 1 reflector is great for all photo occasions, enhancing even the trickiest of lighting situations.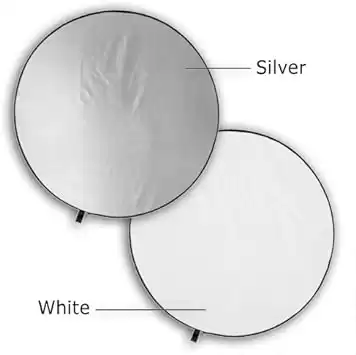 Check this out.
A 2 in 1 light reflector for less than the price of a meal for 2. How cool is that?
This reflector from Fotodiox is great. It's sturdy, rugged and ready to go. With a price like this, you should definitely own one, even if it's only to try out a reflector in your setup.
Out of all the reflectors in this article, this was the clear choice for runner up. It's pretty hard to find fault with something that is priced so fairly but delivers so much.
It's dual sided, one white and one silver. That means you can use it for a range of uses including reflections or enhancements.
It's quoted as being an affordable lighting solution for better portraits. Is this wrong? You be the judge.
A reflector can really make or break a photo. If you have great lighting but you struggle to fine tune the highlights, or even tame some of the harsher elements, this product will help.
When you're done, it all folds down into a tear resistant nylon carrying pouch for easy transport.
The white side can even double as a plain white backdrop for headshots.
Pretty cool huh?
Key Features of the Fotodiox 42in
2 in 1, silver and white reflector
Limited 2-Year Manufacturer Warranty
Includes handy, tear resistant nylon carrying pouch.
Great for all occasions including filling, reflecting and enhancing
Best Cheap Light Reflector: TRUMAGINE Portable Photography Reflector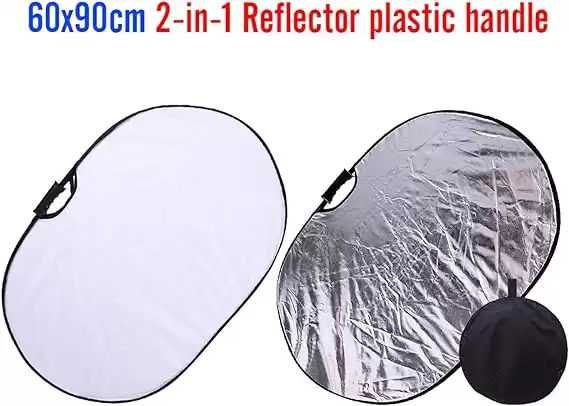 Is your photography currently a hobby, or starting a new photography business and need to stretch your cash as far as possible?
The Trumagine Portable Photography Reflector is a fantastic budget option.
Don't let the price tag fool you, this best cheap light reflector offers both white and silver reflections and it has a handle for easy positioning in-studio shoots.
The reflective material is sturdy and this whole unit can be packed down into the included carrying case that measures only 5 inches. Perfect for throwing in a bag and traveling. With it being so affordable, you don't need to worry too much if it takes a beating.
The reflector is 23"x35" when fully extended. It's not the biggest reflector in this list, but it is a serious bang for your buck.
Key Features of the Trumagine Portable Photography Reflector
Sturdy material for long life
2 in 1 silver and white reflector
Folds into zip up carry case
Dimensions: 24 x 36inch (60 x 90cm)
Best Light Reflector Kit: Neewer 43 Inch/110 Centimeter Light Reflector 5-in-1
Don't you just hate it when you're trying to figure out what you need to buy but the information out there is not quite answering your question?
Of course you do. You wouldn't be reading this article otherwise.
Let's look at Neewer for a second. As a brand, they step up to the plate for photographers time and time again and this is no exception.
What you're looking at here is 5 different reflectors for the price of one all bundled together in the best light reflector kit.
You get five different colors to use.
Translucent for diffusing light, silver for highlights, gold for warmth, white for brightness and black for removing shadows.
How cool is that?
Even if you only need a handful of these options, it makes sense to have them all available in the event that you do need them.
This really boosts your options when it comes to working with light. Photographers often shoot in various locations, and as you probably know, this can sometimes be a tricky thing to get around.
In your own studio it is very easy to control the lighting, but on location, it might not be so easy. A good reflector kit will prepare you for every eventuality.
Key Features of the Neewer 5 in 1 Kit
Round Reflector 43″ / 110CM
5 in 1 – translucent, white, black, gold and silver
Durable and flexible steel spring frame
Collapses into a small carry pouch for easy transportation.
Best Cheap Kit: Etekcity 24″
Etekcity 24"
5 in 1 reflectors are ideal for anyone who needs a lot of options from a portable setup. But have you ever seen one priced as well as this?
Imagine what it would be like to be able to really control your lighting everywhere you shoot. Imagine being able to nail all those portrait shots whatever the environment throws at you.
Well, imagine no more. Etekcity is here to answer your call. This 5 in 1 kit provides everything a budding photographer needs at a price that you will surely do a double take of.
Can this really be true?
You bet it is.
Included in the best cheap kit is a translucent light reflector. This is great for diffusing harsh light onto your subject. This also acts as a frame for the other filters which slip over the top.
You get a white reflector for bouncing light into dark areas, a silver one for overall brightness and highlights, a black one for blocking light totally and a gold one for warming up the light source.
When you're done it all goes into a handy, 10 inch carry case for transport.
An essential item for any photographer but at a price that anyone of any level can get onboard with.
Key Features of the Etekcity 24
1 transparent panel with 4 different reflector covers.
5-In-1 lightweight reflector: Gold, silver, white, black and translucent
10-inch durable zippered carrying pouch for easy transport
Best Flat Panel Reflector: Neewer Flat Panel Light Reflector
Do you want to learn how to effectively light a full length portrait of a subject?
Easy…
Get yourself a flat panel reflector like the Neewer model. This is the best flat panel reflector you can buy and it'll change the way you work.
A flat panel reflector is perfect for static installation. It's too big to hold in your hand and move around, but thats ok. This serves a different purpose.
Sometimes shooting a subject at full length can open up a few tricky lighting situations. Perhaps they aren't getting lit in all the right places, or the light is not even across their pose.
This is where a full length, flat panel will save the day.
This kit has two reversible panels included. One black and white and the other silver and gold. The black is for taming light, the white is for boosting it. The black can also be used to block light and create shadows if needed.
Silver is always useful for brightness and highlights and gold is great for adding some warmth to the subject.
The panels attach to a bracket with a 360 degree rotation. You can mount this bracket to any of your existing lighting stands.
Key Features of the Neewer Flat Panel Light Reflector
35 x 70″ / 90 x 180cm
Reversible black/white panel; reversible silver/gold panel
Can be set up horizontally or vertically for optimum reflection
360 degree rotating bracket fits with any lighting stand
Best Triflector: Lastolite Camera Lighting Equipment Triflector MKII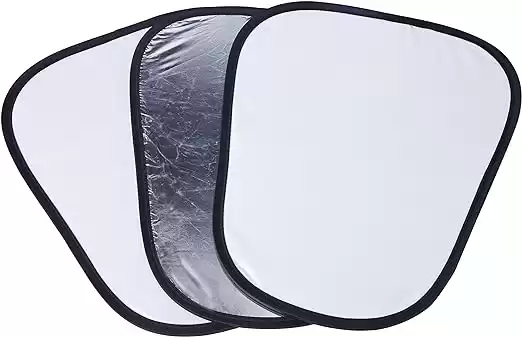 Do you have a multi point lighting setup? Chances are, if you're working as a photographer, you probably do.
Perhaps a triflector will solve your lighting troubles. The best triflector we wanted to show you is the Lastolite Triflector MKII.
If you don't know why you need a triflector, let's take a quick look.
The main use for a triflector is to evenly distribute light around. This is especially useful if you do makeover or fashion photography. The triflector will allow you to fine tune the lighting angle on every side of your subject.
It can allow you to get flawless, even coverage. Especially on hard to light areas like the face. It will allow you to set the shadows from all angles exactly where you want them to be.
This triflector kit comes with 3 panels, two white for highlights and one silver for adding additional brightness where you need it to be.
The reason this is useful in makeup photography is so that the subject's face appears even and all the detailing can be seen without shadows getting in the way.
Key Features of the Lastolie Triflector
Perfect for makeup and fashion photography
Fine tune the light reflection from 3 angles
Trilite's hinge mechanism makes all three panels individually adjustable
Translucent and white panels
Best Clamshell light reflector:Neewer Clamshell Light Reflector
If you're looking to step up your portraits then perhaps a clamshell reflector will be the best option for you.
You already know by this point in the article that you need a reflector of some kind right? If you're still stuck for choice that's ok. You've got plenty to think about.
Is a Clamshell for you?
This particular model from Neewer is the best clamshell reflector so it's a pretty good place to start. Its 66inches long and 24inches wide.
The great thing about a clamshell reflector is its ability to evenly spread light. They are great for portraits, headshots, makeup photography and even video work.
The curvature of the reflector will also allow the light to really catch the eyes.
The material is handcrafted with an aluminium extrusion which is both lightweight and durable.
That's not all…
You also get 4 different reflector colors. Black, white, silver and gold. You know what all these colors do by now. Everything from adding warmth to boosting the brightness, this kit does it all.
Once you're done, it all folds down into a neat little bag for transport.
These options make this a very useful and versatile unit to have in your arsenal.
Key Features of the Neewer Clamshell
Dimensions 66" x 24"
Includes Carry Bag
Double sides with 4 colors (black, white, silver, gold)
Arc design provides balanced reflections. Perfect for portraits and make up shots.
Best Portable Light Reflectors: Neewer 43 Inch/110 Centimeter Light Reflector 5-in-1
Want to know a secret?
We've already featured this on the list as our best light reflector kit. We loved it so much we also had to place it as the best portable light reflectors.
Neewer always step up to the plate. Whatever photographers need, they seem to be two steps ahead.
This 5 in 1 selection of reflectors is perfect for the on the go photographer. If you're shooting in new studios all the time, or on location, a good reflector can really make a difference.
The big problem is transporting loads of equipment.
Space for many mobile photographers may be an issue. If you use public transport you're limited to what you can take. This kit all fits neatly into the included carry case for easy transport.
In this fast paced world, portability is everything. You don't want to be hopping on a train or bus with a huge bag full of gear. You want to make things easy on yourself.
If portability and flexibility is what you need from a reflector kit, then you will certainly love this kit from Neewer.
Key Features of the Neewer 110cm 5-in-1 Reflector
Round Reflector 43″ / 110CM
5 in 1 – translucent, white, black, gold and silver
Durable and flexible steel spring frame
Collapses into a small carry pouch for easy transportation.
Conclusion
So there you have it.
A rundown of the world of light reflectors.
Now that you've made it to the end you will probably have made up your mind about what you're looking for in a reflector. If you want to make your portraits look killer then a good reflector will be your new best friend.
With all your new knowledge in place, you're ready to go and conquer.